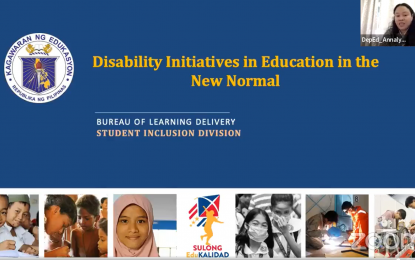 MANILA – The Department of Education (DepEd) reiterated its goal to increase the numbers of enrollment among learners with disabilities, in an online webinar with the National Council of Disability Affairs on Monday.
This is in line with the celebration of the 18th Women with Disability Day, as the DepEd joined the Department of Labor and Employment, Department of the Interior and Local Government, and other stakeholders in promoting "3E's to Empowerment" for women with special needs, particularly their equal participation in education, employment, and election.
Annalyn Aquino, DepEd Senior Education Program Specialist of Student Inclusion Division-Bureau of Learning delivery, said increasing enrollees for learners with disabilities is one of the department's key objectives, given its significant decline during the pandemic.
The latest data shows that from 152,420 female learners enrolled in the school year 2019-2020, it has dropped to 38,914 enrollees in the school year 2021-2022.
"Ang nakikita nating rason (The reason that we are seeing...) is that learners with disabilities are not being properly tagged in the Learner's Information System (LIS), especially our learners with disabilities who are in mainstreamed classes," Aquino said.
She added that it led to a series of orientations for receiving teachers, school heads, and supervisors, to address the issue of proper tagging to learners.
Besides increasing the learners' enrollment, DepEd is also doubling its efforts to increase the number of schools with programs for learners with disabilities.
To date, 13,408 schools in the country have a Special Education Program (SPED).
"Gusto nating palawakin 'yung kapasidad ng ating (We want to widen the capacity of our) SPED centers by converting it into an inclusive learning resource centers," Aquino said.
The DepEd also aims to mount items for SPED teachers, as well as the establishment of data indicators including completion rate, survival rate, and school leaver rate.
Aquino also acknowledged the vital role the enactment of RA 11650 or the Act ensuring inclusive education for learners with disabilities would bring, saying it could relevantly intensify and help speed up the DepEd's efforts and targets for learners with special needs. (PNA)