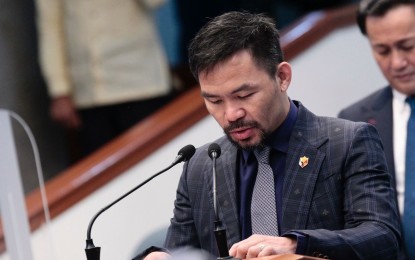 MANILA – Presidential candidate Emmanuel "Manny" Pacquiao on Tuesday met with officials of the American space industry firm SpaceX and welcomed its possible entry into the country.
This was the second time that Pacquiao met with the firm's officials after an initial meeting last January, the senator's media team told reporters.
"The involvement of SpaceX in our country will not only bring in investments and jobs but will also put up at the forefront of space science. Nakaka-excite ang possibility na ito at kung ano magagawa nito para sa bansa natin (I am excited about what this means for our country," Pacquiao said.
In the meeting were Rebecca Hunter, SpaceX Senior Manager for Government Affairs, and Senator Koko Pimentel.
There are currently plans for a larger role in the fledgling Philippine Space Agency (PhilSA) including the development of a sovereign satellite under the control of the country.
The agency's two flagship projects -- the PHP1.07 billion for a Multispectral Unit for Land Assessment (MULA sovereign satellite), and the PHP213 million program to mobilize space data -- would help the country develop the country's so-called "invisible ICT infrastructure" that makes simple convenience in the modern world possible.
PhilSA's PHP1.07 billion MULA sovereign satellite provides a more secure, independent, and efficient resource for geospatial data.
MULA takes pictures that are 120 kilometers wide at a resolution of 5 meters and in nine different colors and can detect ships and planes.
The satellite is eyed to provide situational awareness and aid in the assessment and monitoring of national security areas and the rest of the Philippine territory, periodically generate updated maps on land use, infrastructure, road networks, and inland water resources, monitor and assess disaster events and hazard-prone areas for effective response strategies and generate maps of critical ecosystems and provide high-resolution images for detecting coastal erosion and monitoring of important activities
The MULA program will also translate into capacity building for local scientists and engineers and licenses to rebuild the satellite locally. (PNA)