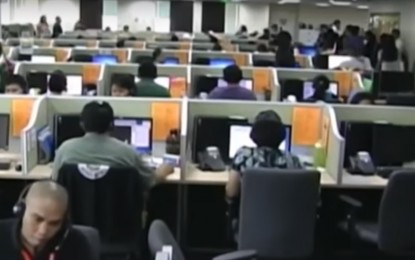 MANILA – Senator Leila de Lima on Tuesday supported the Information Technology and Business Process Management (IT-BPM) companies' call to suspend the on-site work arrangements.
In a statement, De Lima said the Fiscals Incentives Review Board (FIRB) should heed the call of IT-BPM firms to temporarily suspend the return-to-office (RTO) order.
"IT-BPM firms invested in WFH (work-from-home) arrangements for their employees and it worked for everyone concerned. They were able to observe the health protocols implemented by the IATF. Their employees kept their jobs. And the economy lived to fight another day," she said.
De Lima said RTO suspension can address traffic congestion issues.
"Under a WFH arrangement of an IT-BPM firm, productivity is increased due to the removal of inefficiencies brought about by terrible traffic conditions," De Lima said.
She said granting IT-BPM firms' requests will also keep their employees and their families safe from the prevailing threat of Covid-19 infections since the pandemic is not yet over.
"[W]e are in the midst of a transportation crisis. The price of petroleum products is at record highs and many of our transport service providers are contemplating on cutting back or stopping altogether because the cost of operations is not sustainable," she added.
De Lima said the RTO order "will redound to a net positive gain on the country's economy."
"The industry stands to lose resources and trained employees if there is an abrupt shift in the working arrangements. In the short term, there is no guarantee that the other businesses in the eco-zones will prosper during an ill-planned transition," she added.
De Lima also noted the WFH also allowed IT-BPM firms to hire more Filipinos beyond the capacity of their physical offices.
"It is something that we can look at to increase meaningful employment in our country," she added.
In view of reviving the Philippine economy hit hard by the prevailing health crisis, the FIRB issued Resolution No. 19-21 on Aug. 2, 2021, allowing the WFH arrangement "not exceeding 90 percent of the total workforce" of registered IT-BPM enterprises until March 31 only.
The resolution also allowed registered business enterprises of the IT-BPM sector to continue implementing WFH arrangements without adversely affecting their fiscal incentives under the Corporate Recovery and Tax Incentives for Enterprises (CREATE) law
On Thursday, various business process outsourcing (BPO) companies belonging to the Alliance of Call Center Workers (ACW) said they are willing to give up fiscal incentives from the government, in exchange for continually adopting the WFH arrangement for their employees. (PNA)