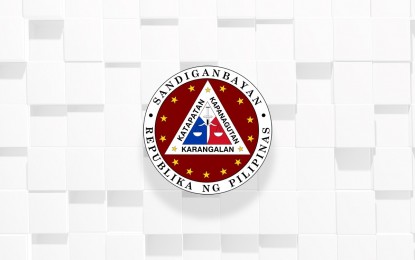 MANILA – The Sandiganbayan anti-graft court has convicted the former president of the National Agribusiness Corporation (Nabcor) for an anomalous PHP10-million contract in 2012 to engage the services of a financial advisor in connection with its outstanding debts amounting to PHP1.67 billion.
In a 42-page decision dated March 25 written by Associate Justice Rafael R. Lagos, the anti-graft court's Fifth Division sentenced Honesto Baniqued to up to 8 years imprisonment and ordered him to indemnify the Department of Agriculture (DA) PHP4.78 million.
Nabcor is a government-owned and controlled corporation (GOCC) under the DA and served as its trading and marketing support until it was abolished in 2013.
Baniqued had approved the payment of PHP4.79 million to lawyer Rodolfo V. Romero representing the initial payment and remuneration as financial contract for Romero to act as counsel to negotiate a debt restructuring plan (DRP) with the Philippine Deposit Insurance Corp. (PDIC) in relation to Nabcor' s outstanding debt amounting to PHP1.67 billion.
In exchange for the services, Romero would be paid PHP10 million with half the amount due upfront upon signing by Nabcor and PDIC of the final DRP and the rest by amortization for up to 10 years.
In March 2013, the Commission on Audit (COA) said the contract of services between Nabcor and Romero did not comply with state auditing requirements including the needed written conformity and acquiescence of the Government Corporate Counsel and the written concurrence of COA before the hiring of employment of a private lawyer.
In August 2013, the COA reevaluating the case said while the contract was not in the nature of legal services, nevertheless ruled there had been no necessity for the hiring of a financial advisor and disallowed the payment of the sum for lack of basis. Romero then filed a case and was awarded the sum by the Court of Appeals (CA) for services he had already rendered.
A complaint for violation of the Anti-Graft and Corrupt Practices Act was subsequently filed against Baniqued.
The Sandiganbayan said Baniqued "clearly failed to exercise the degree of diligence required of him under the law before approving the payment to Romero" and noted that the accused "did not even attempt to appeal the CA decision which validated the payment to Romero based on quantum meruit (work actually done) and thus became final."
"Had accused Baniqued followed the requirement of public bidding in engaging a financial advisor, and had he acted with due care and exercised extraordinary diligence under the circumstances, all these could have been avoided and prevented early on," the court said.
Associate Justices Maria Theresa V. Mendoza- Arcega and Maryann E. Corpus-Mañalac concurred. (PNA)