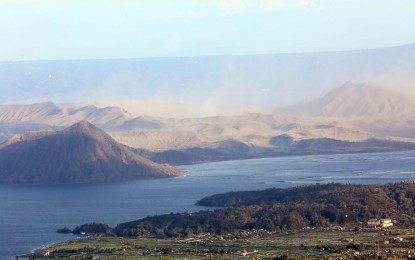 MANILA – Deputy Speaker Vilma Santos-Recto on Tuesday called for the immediate passage of a bill proposing the creation of the Taal Volcano Rehabilitation and Development Commission.
Santos-Recto, former governor of Batangas province, said the creation of Taal Commission would provide relief, resettlement, rehabilitation, and assistance to those affected by the continuing unrest of the Taal Volcano.
"This proposed measure seeks to strengthen the mechanisms of government to address the needs of families and communities affected by the eruption of Taal Volcano," Santos-Recto said.
Under House Bill 5966, a Tall Volcano Rehabilitation and Development Fund, which will have PHP50 billion allocation, shall be established to provide immediate relief to affected individuals and families.
The proposed commission shall provide structure and direction in the utilization of the fund.
The proposed fund shall be used to establish resettlement centers, homesites and townsites for displaced families; provide livelihood and employment opportunities for local residents; construct, repair, rehabilitate or reconstruct public infrastructure needed in the affected communities.
She said the development fund shall also be used to implement other interventions that could expedite the return to normalcy in affected localities.
"I hope we can craft more laws that would improve our local government units' disaster preparedness capabilities so that we can ensure the safety, health, and economic well-being of our people," she said.
Taal Volcano has been under alert level 3 (magmatic unrest) since Saturday, indicating there is magmatic intrusion at the main crater that may further drive succeeding eruptions, she noted.
Three phreatomagmatic bursts were also detected in the Taal Volcano during the 24-hour observation period.
These eruptions occurred at 9:30 a.m., 9:33 a.m., and 9:36 a.m. on Monday, and produced plumes 400 meters to 800 meters high.
Phreatomagmatic eruptions are caused by the interaction of magma and water. Eruptions normally consist of multiple explosive events, the interval of which may vary.
Eight volcanic earthquakes caused by movements or eruptions of magma from the volcano were also detected in the past 24 hours. The figure includes one volcanic tremor that lasted for five minutes and seven low-frequency volcanic earthquakes.
As of Tuesday, National Disaster Risk Reduction and Management Council (NDRRMC) spokesperson Mark Timbal said 1,142 families are now staying in 17 evacuation centers.
These numbers are equivalent to 3,771 persons, he added. While another 265 families or 1,203 individuals are staying with friends and relatives in Batangas.
Local government units affected by Taal Volcano's ongoing magmatic unrest include those of Agoncillo, Balete, Cuenca, Laurel, Lemery, Talisay, and San Luis, Timbal said. (PNA)