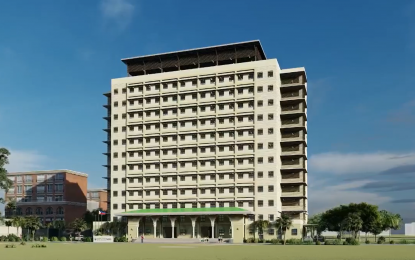 MANILA – In response to the long-debated problem of classroom shortage in the country, the Department of Education (DepEd) has finally launched an exhibit of medium- and high-rise school building designs for learners, aimed to address climate change and population influx.
In a Facebook Livestream on Tuesday, DepEd Secretary Leonor Briones said she is elated that these safe spaces are considered for children, especially as they prepared learners for the new normal.
"As we are winding up our term, we formally recognize that we do need medium-rise school buildings, we need to save on space. We will not give up blended learning. Blended learning will take place in these kinds of buildings, in these kinds of school spaces," she said.
Briones insisted that learners must get used to a heavily online and "technology-based" education system.
In the exhibition, the DepEd showed five- to 12-story academic buildings, designed to be disaster-resilient.
Each of its classrooms could cater to 25 up to 60 learners and has other key features such as concession spaces, clinics, a portico, and a covered roof deck, among others.
Its design targets the use of green building technology, with flood mitigation, typhoon, and earthquake resilience features. It also includes the use of renewable energy, natural lighting, and ventilation design, which is also structured to ensure water efficiency for the new normal setup.
The Department of Public Works and Highways (DPWH), which has been closely working with the DepEd, also expressed its delight over the launching, saying it will help address the "perennial problem" caused by the growing population and delayed release of funds.
DPWH Secretary Roger Mercado then vowed to support the DepEd with the same intention of providing learners with adequate spaces. (PNA)