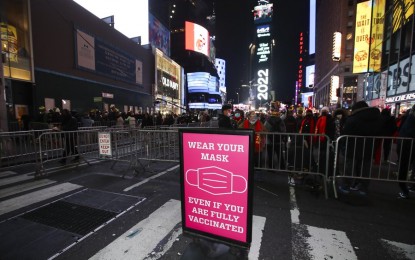 MANILA – Two Filipino nationals are the latest victims in a string of unprovoked attacks in New York City, the Philippine Consulate General said Wednesday.
"The Philippine Consulate General in New York condemns in the strongest terms the latest attacks against members of the Filipino Community after two more kababayan have been added to the growing list of victims of the senseless violence that has left many Filipinos in fear," Consul General Elmer Cato said in a statement.
On Sunday, a 73-year-old Filipino was reported to have been assaulted by a homeless individual while on his way to the church between 8th Avenue and 40th Street in Manhattan.
On Monday, meanwhile, a 53-year old Filipino was "beaten unconscious and robbed" by another homeless individual at a McDonald's store on 7th Avenue near 34th Street.
New York-based Daily News identified the 53-year-old as Melvin Dizon, who is now recuperating at the Bellevue Hospital.
In an interview with the US daily, the Filipino immigrant said none of the store employees nor fellow customers came to his aid as his assailant knocked and kicked him on the ground.
Cato said these assaults, which follow the brutal attack against a 67-year-old Filipino woman in Yonkers, New York, two weeks ago, bring to 34 the number of anti-Asian hate incidents and criminal violence involving Filipinos since 2021.
This year alone, the Philippine Consulate General has monitored seven incidents, including the two latest attacks.
In view of this, the Philippine Consulate General in New York again reminds members of the Filipino community to be vigilant at all times and to take the necessary precautions, especially when in public.
The Consulate then called on authorities to "do more to make sure that New York City is safe again for everyone by removing dangerous individuals, especially those with criminal records, from the streets and addressing concerns related to homelessness and mental health" . (PNA)