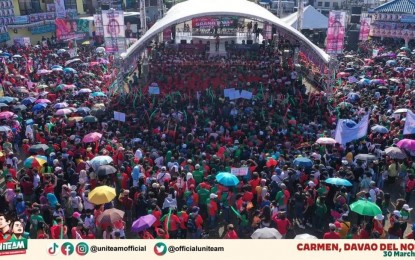 CARMEN, Davao del Norte – The UniTeam tandem has urged anew Dabaonons to unite and embrace peace among their fellow Filipinos.
During the UniTeam's grand rally here on Wednesday, presidential aspirant Ferdinand "Bongbong" Marcos Jr. and running mate Mayor Sara Duterte reiterated the call as they thanked their supporters in the province.
"Thank you for the warm welcome. We, the Uniteam, long for unity. Our senators came from different political parties but we unite for the betterment of the country," Marcos said.
He added that their call for unity is the first step to rise after the pandemic.
"We will look into the problems of the people who were affected by the pandemic. We will provide livelihoods for them," he said.
Meanwhile, Duterte also thanked the Davao del Norte local and provincial candidates and supporters who personally came and supported their rally.
If given the opportunity to serve the Filipinos by winning in the coming national elections, Duterte vowed to lead them in one direction - unity.
"We will lead the country in one direction, regardless of their political color. We will only have one color for the hardworking and brave Filipinos," she added.
Duterte also vowed to continue the peace efforts, the "Build, Build, Build" program, and the war on drug campaign of the current administration.
"Our family is indebted to all of you for the support you have given us. President Duterte thanks all of you," she said.
Among the senatorial candidates who joined the grand rally were Mark Villar, Sherwin Gatchalian, Gibo Teodoro, Herbert Bautista, Harry Roque, Jinggoy Estrada, Loren Legarda, Robin Padilla, Migz Zubiri, Rodante Marcoleta, and Gringo Honasan. (PNA)