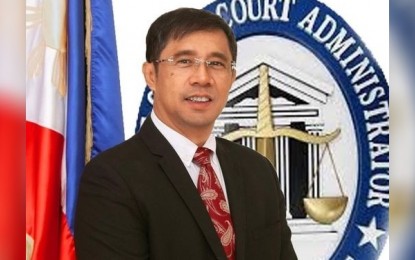 MANILA – The Supreme Court (SC) has identified 15 regional trial courts (RTC) throughout the country to handle terrorism and counter-terrorism financing cases involving crimes under the Anti-Terrorism Act (RA. 11479) and the Terrorism Financing Prevention and Suppression Act (RA 10168).
In a circular dated March 28, Court administrator Raul Villanueva said these courts are "designated to exclusively and speedily hear, try and decide" the cases committed in the respective regions.
In the National Capital Region (NCR), the regional trial court (RTC Branch 77) of Quezon City and the RTC Branch 266 of Taguig were designated.
Likewise, designated were the Urdaneta Pangasinan RTC Br. 73; Bayombong, Nueva VIzcaya RTC Br. 28; Malolos City, Bulacan RTC Br. 12; Batangas City RTC Br. 7; Mamburao RTC Br. 44, Occidental Mindoro; Naga City Br. 23, Camarines Sur; Iloilo City RTC Br. 31; Cebu City RTC Br. 74; Tacloban City RTC Br. 45; Zamboanga City RTC Br. 33; Cagayan de Oro City RTC Br. 20; General Santos RTC Br. 58; and the Iligan City RTC Br. 1 in Lanao del Norte.
The Anti-Terrorism Act defines terrorism as:
• Engaging in acts intended to cause death or serious bodily injury to any person or endangers a person's life;
• Engaging in acts intended to cause extensive damage or destruction to a government or public facility, public place, or private property;
• Engaging in acts intended to cause extensive interference with, damage, or destruction to critical infrastructure;
• Developing, manufacturing, possessing, acquiring, transporting, supplying, or using weapons; and
• Releasing dangerous substances or causing fire, floods, or explosions when the purpose is to intimidate the general public, create an atmosphere to spread a message of fear, provoke or influence by intimidating the government or any international organization, seriously destabilize or destroy the fundamental political, economic, or social structures in the country, or create a public emergency or seriously undermine public safety.
Last December, the court upheld the validity of Republic Act (RA) 11479 except for two provisions of the law -- a portion of Section 4 and a portion of Section 25.
Section 4 deals with excluding mass actions and similar exercises of civil and political rights from the definition of terrorism while Section 25 is about requests by foreign agencies or bodies to designate persons as terrorists and terrorist organizations.
The SC voted 12-3 to declare unconstitutional the qualifier portion of Section 4 that states "which are not intended to cause death or serious physical harm to a person, to endanger a person's life, or to create a serious risk to public safety."
This qualifier to the proviso in Section 4 "is declared as unconstitutional for being overbroad and violative of freedom of expression," the court said.
Likewise stricken down by a vote of 9-6 was a portion of Section 25, paragraph 2 which allows "request for designations by other jurisdictions or supranational jurisdictions may be adopted by the ATC after a determination that the proposed designee meets the criteria for designation of UNSCR No. 1373". (PNA)