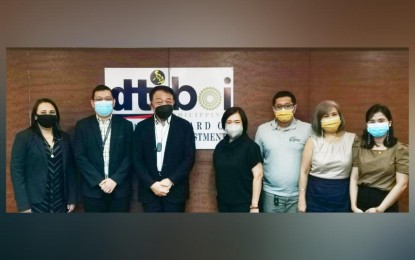 MANILA – Face mask maker Medtecs International Corp. Ltd. aims to establish an Industrial Town in the Philippines that will produce electric vehicles, personal protective equipment (PPE), and integrated textile manufacturing.
In a statement Wednesday, the Board of Investments (BOI) said Medtecs chairman Clement Yang and other executives met with Trade Undersecretary and BOI managing head Ceferino Rodolfo and other officials last week to discuss the expansion plans of the company here.
Yang said the Industrial Town could bring in USD1.9 billion in foreign direct investments and around 125,000 jobs in seven years.
He added Medtecs is looking into expanding its PPE production by manufacturing nitrile gloves, which is currently done in Cambodia.
During the pandemic, Medtecs was able to locally produce melt-blown non-woven fabric, the filter material used in medical-grade face masks.
The firm infused an additional USD600,000 in investments in its manufacturing plant in the Freeport Area of Bataan to ramp up its face mask production to 25 million pieces per month.
"Medtecs is especially keen in bringing in the missing gaps in the country's textile supply chain such as yarn production, spinning, weaving, including the production of recycled polyester textile —a mix of polyester with recycled materials from post-consumer bottles," the BOI said.
Rodolfo said Medtecs' expansion plan here is eligible for incentives under the Corporate Recovery and Tax Incentives for Enterprises (CREATE) law.
He said projects with minimum investment capital of PHP50 billion or creating at least 10,000 jobs may avail incentives of up to 40 years.
The trade official also encouraged the company to pursue the processing of green metals like nickel for e-vehicle batteries. (PNA)