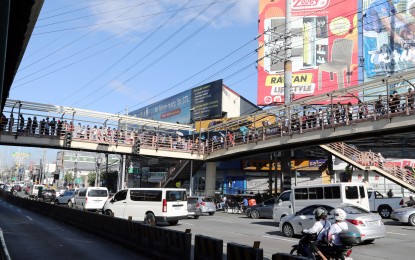 MANILA – The Metropolitan Manila Development Authority (MMDA) has proposed several new traffic schemes and modifications to government work hours to help ease vehicular traffic in the National Capital Region (NCR).
In his presentation during President Rodrigo Roa Duterte's 'Talk to the People' on Tuesday night, MMDA chairperson Romando Artes said the proposals were gathered through the "Traffic Summit" held on March 17, 22, and 23 with other government agencies, different transportation sectors, and private stakeholders.
"Maganda po ang naging resulta, maraming pong suhestiyon kung paano mababawasan ang traffic sa Kamaynilaan. Pero ang nagmarka po ay ang agreement ng bawat isa na sobra po ang dami ng sasakyan dito sa Kamaynilaan at kailangan po talagang i-reduce (The results were good, there were many suggestions on how to reduce traffic in Metro Manila. But what stood out was that everyone agreed that there are too many vehicles in Metro Manila and they need to be reduced)," Artes said.
In 2021 alone, he noted that there were around 300,000 vehicles sold, with about 60 to 70 percent expected to enter NCR.
Among the proposals are changes to the existing Unified Vehicular Volume Reduction Program (UVVRP) or the number coding scheme.
This includes a 50 percent volume reduction plan where vehicles with license plates ending with odd numbers will be barred on Mondays and Thursdays while those with even numbers will be barred on Tuesday and Friday -- from 7 a.m. to 10 a.m. and 5 p.m. to 8 p.m.
Another proposal is a 40 percent volume reduction plan where vehicles will be barred from NCR for two days a week, with the schedule depending on the last digit of their license plate.
Currently, the MMDA enforces a 20 percent volume reduction plan that bars vehicles from NCR one day per week.
Modified work hours for gov't offices
To further reduce the volume of vehicles during rush hour, Artes proposed changing the work hours of government offices -- from 7 a.m. to 4 p.m. from the usual 8 a.m. to 5 p.m.
"Ito po naman ay ikokonsulta namin sa Civil Service Commission (CSC) sa pangunguna po ni dating (This is something we will consult with CSC led by former) [Cabinet Secretary] Karlo Nograles," Artes said.
Other proposals, he said, are two different forms of a four-day workweek—10 hours of work per day, four days a week; or working four eight-hour days at the office and one day of work-from-home per week.
"Ang pag-uusapan lang po dito ay kung magbabayad ng overtime in excess of eight hours because of the Labor Code (What will be up for discussion is whether overtime will need to be paid in excess of eight hours because of the Labor Code)," Artes said.
Investments in technology
The MMDA, he said, is planning on making larger investments in technologies that will expand its "no contact apprehensions" such as having more closed-circuit television (CCTV) cameras on major roads and "Mabuhay lanes."
Moreover, the MMDA is eyeing the use of body cameras for 'no contact apprehensions' with its traffic enforcers.
"Hindi na po magti-ticket 'yung ating mga enforcers at lahat po ng panghuhuli ay gagawin through no contact apprehension (Enforcers will no longer issue tickets as all apprehensions will be made with no contact)," Artes said.
The new scheme, he said, would reduce corruption amongst traffic enforcers and delays in traffic caused by regular apprehensions.
In addition, he said investments in CCTV cameras would also enable the MMDA to better police traffic violations, especially illegally parked vehicles.
He also proposed the construction of elevated walkways and bicycle lanes to encourage walking and biking, reducing the need for vehicular transport.
The infrastructure needed, he said, would "entail large expenditure on the part of the government" but would help the public through more convenient active transportation and reduced vehicular traffic. (PNA)