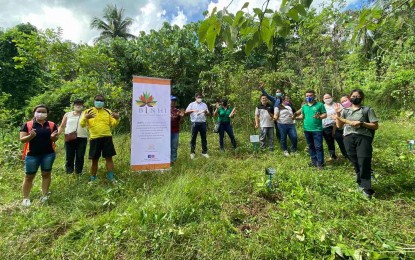 DUMAGUETE CITY – A geothermal power firm and Silliman University (SU) on Wednesday planted 100 endangered native tree species to establish an arboretum in Negros Oriental.
The botanical collection dubbed "BINHI" is composed exclusively of a variety of tree species and is located at the Christian institution's field laboratory grounds in Barangay Palinpinon, Valencia town.
The Energy Development Corporation (EDC) said the project will provide a safe haven for the long-term survival of Philippine native trees.
Among the endangered Philippine tree species that were planted were banuyo (Wallaceodendron celebicum), ipil (Borneo teak), taba (Tristaniopsis littoralis), baguilombang (Reutalis trisperma), yakal (Shorea astylosa), lisok-lisok, malakatmon, basilan-yakal, quisumbing gisok, red lauan, kamagong ponce, bagtikan, duguan, narra, kamagong, and molave.
EDC-Negros corporate relations department head Norreen Bautista and SU vice president for Development, Jane Annette Belarmino, led other officials in the planting activity.
"Recognizing our calling to be stewards of creation, we, at Silliman University, are committed to the prevention of environmental pollution and a conservation and enhancement of our natural resources and environmental sustainability," Belarmino said.
The university appreciates its collaboration and partnership with EDC, "because of shared vision and goals".
EDC will provide SU with the native tree seedlings from its priority species, as well as technical assistance in monitoring and maintaining the planted trees.
Belarmino also said the Environmental Learning Resource Center intends to house a multi-disciplinary collection of environmentally-relevant best practices, outputs, and programs of the university anchored on conservation awareness and environmental sustainability.
"We intend to put green architecture, demonstration areas, which includes the arboretum, information materials as well as programs that showcase their resource center. Thus, the significance and relevance of the arboretum project with EDC that strengthens our program on forest diversity, biotechnology, conservation biology, for instruction, research, and extension," she said.
Bautista, for her part, said the people should celebrate every day the International Day of Forests, which is usually remembered every March 21.
"This year's theme for the International Day of Forests is Forest and Sustainable Production and Consumption. Forests are not just a source of raw materials but as means of absorbing carbon and helping to sustain life on this planet," Bautista said.
The BINHI arboretum is just one of the many initiatives of Silliman University to protect the environment.
Recently, SU renewed its power supply contract with EDC for another two years. It is the only university on Negros Island and one of the few in the country to be 100 percent powered by renewable energy (RE).
It is also a pioneer partner of EDC's recently launched Net Zero Carbon Alliance (NZCA) that aims to help companies and organizations that have committed to becoming carbon neutral.
The university is also a partner of the EDC-initiated 10 million trees in 10 years for a Greener Negros Movement (10Min10) that aims to plant, grow, and nurture at least 10 million trees to bring back the forests on Negros Island.
Bautista shared that through collaborative efforts with partners and stakeholders, EDC has completed planting 10 million trees in just six years.
The newly-launched EDC-SU arboretum is an addition to the 22 arboreta and 163 tree parks that have been established to date, together with its almost 200 BINHI partners.
EDC, owned by First Gen Corporation, owns and operates the 222.5-megawatt geothermal power plants in Valencia, Negros Oriental. (PNA)