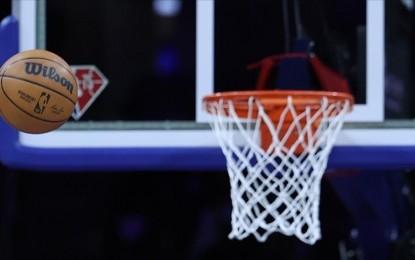 ANKARA – The Luka Doncic-led Dallas Mavericks guaranteed their spot in the 2022 NBA playoffs with their Wednesday night 120-112 win over the Cleveland Cavaliers.
Separately, the Minnesota Timberwolves' 125-102 loss to the Toronto Raptors also helped the Mavericks reach the playoffs.
With both games in the rear view mirror, the Mavericks are set to conclude the regular season no lower than number six in the Western Conference standings.
Minnesota, seventh in the Western standings, have a 43-34 win-loss record.
The Mavericks had their 48th win to take the number three position in the Western Conference, securing their playoff berth.
Dallas previously lost 29 games in the 2021-22 regular season.
Slovenian star Doncic racked up 35 points, 13 assists, and nine rebounds to propel Dallas to an away victory at Cleveland's Rocket Mortgage FieldHouse.
In addition, Dallas forward Dorian Finney-Smith scored a career-high 28 points.
Meanwhile the Cavaliers, who lacked their rookie star Evan Mobley due to an ankle injury, were led by shooting guard Caris LeVert.
The 27-year-old scored 32 points against the Mavericks.
Darius Garland, another Cavaliers guard, posted a double-double with 25 points and 10 assists.
The game was 87-87 in the third quarter, but after unopposed Finney-Smith hit a three-pointer, Dallas took a double-digit lead of 97-87 with a minute and 45 seconds remaining in the quarter.
Then the Mavericks controlled the game and did not let Cavaliers see the light of day in the fourth quarter.
Meanwhile, the Cavaliers ranked seventh in the Eastern standings with 42-34.
Cleveland are likely to be in the play-in but they still have hope for a playoff spot.
They will look for fumbles by the sixth-place Toronto Raptors. The Canada-based team has a 44-32 win-loss record.
The top six teams of both conferences will directly qualify for the 2022 playoffs, where they will be joined by two each from both sides after a play-in tournament for those finishing seventh through 10th in the regular season.
The playoffs are scheduled to start on April 16, with 16 teams in the running for the 2021-22 NBA title.
Other results: Indiana Pacers - Denver Nuggets: 118-125; Washington Wizards - Orlando Magic: 127-110; Boston Celtics - Miami Heat: 98-106; Toronto Raptors - Minnesota Timberwolves: 125-102; New York Knicks - Charlotte Hornets: 114-125; Oklahoma City Thunder - Atlanta Hawks: 118-136; Houston Rockets - Sacramento Kings: 118-121; San Antonio Spurs - Memphis Grizzlies: 111-112; Portland Trail Blazers - New Orleans Pelicans: 107-117; and Golden State Warriors - Phoenix Suns: 103-107. (Anadolu)