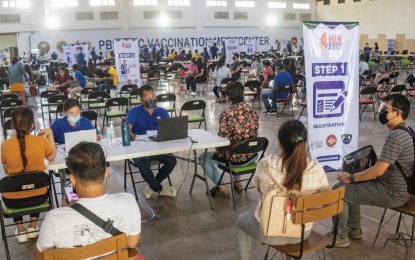 CEBU CITY – A private initiative helping the national government for the vaccination rollout since last year commended on Friday hospitals, businesses, and volunteer front-liners for the inoculation efforts covering the economic sector here.
In a statement released by the Office of the Presidential Assistant for the Visayas (OPAV), the Project Balik Buhay (PBB) lauded the medical front-liners and volunteers who helped them in the inoculation of workers at the 17 sites it supported from April 2021 to March 2022.
"As of March 30, 2022, Project Balik Buhay has administered a total of 297,593 primary and booster doses to employees and dependents of 3,430 registered companies, organizations, micro establishments and people's associations from the Metro Cebu LGUs (local government units)," the statement said.
Out of 346,565 individuals who registered, 136,089 received their first doses, and 134,162 for second doses, while 27,342 for booster jabs.
OPAV head Secretary Michael Lloyd Dino, who worked with the private sector in the vaccination efforts for the economic sector, said his office requested the Inter-Agency Task Force for the Management of Emerging Infectious Diseases (IATF) and the Department of Health (DOH) for the mobilization of privately-manned inoculation site.
Dino said the private initiative significantly unburdened the government medical front-liners, especially those established in LGUs, in inoculating other priority sectors as bulk of the vaccinees in the A4 category or the economic sector were taken care of those privately manned sites.
The companies, organizations, and foundations worked with the PBB in establishing private sector-funded sites to help augment the capacity of individuals seeking to be vaccinated against the coronavirus disease 2019 (Covid-19).
In July 2021, PBB launched the SalBaBida Program (Salary and Bonus Assistance for our Bidas) to help enable and encourage nurses attending to Covid-19 patients across 13 participating private hospitals in Cebu at the height of the Delta-driven surge.
Edmun Liu, PBB lead convenor, commended the Cristina Lee Dino Foundation, SM Foundation, Inc., BDO Foundation, LH Foundation, Inc., PLDT-Smart Foundation, Inc., Juanito I. King Foundation, Inc., Visayan Electric Co., Cebu Landmasters, Inc., Cebu Chamber of Commerce and Industry, and Century Pacific Group RSPo Foundation Inc. for their support in extending assistance to 993 nurses in August 2021 and 944 nurses during its second tranche in September 2021.
Liu also cited the help from 17 private medical facilities in Cebu for providing venue and personnel.
The PBB also tapped Bayanihan Cebu, Inc. for extending support to patient care Bayanihan Cebu Field Centers providing treatment and care to 679 patients and free swabbing services to 38,057 individuals from April 2020 to March 2021. (PNA)