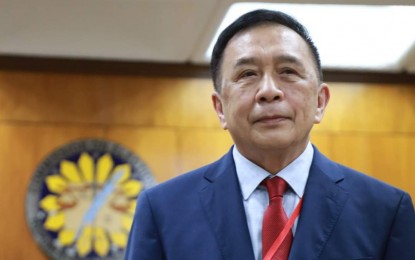 MANILA – The Commission on Elections (Comelec) on Friday said its service provider Smartmatic International gave an assurance that the supposed security breach did not compromise the system that will be used in the forthcoming polls.
"They emphasized to us that the data leak does not have anything to do with the elections in 2022. What was leaked were data concerning internal organization and activities. They assured us that the security of the ballots, the configured SD (secure digital) cards was not compromised by that leakage," Comelec chairperson Saidamen Pangarungan said in a press briefing.
He said Smartmatic also informed that they have meted appropriate disciplinary action against their employee over the incident.
Pangarungan together with Commissioners George Garcia and Rey Bulay met with officials of the international company at the Comelec main office in Intramuros, Manila on Thursday.
He, meanwhile, assured that they will come up with their decision on the matter as soon as possible.
"Although Smartmatic knows that we studied all possible courses of actions that the Comelec will take against them if ever. We are just waiting for the report of the NBI since it will be the official basis of the action that we are going to take," the Comelec chief added.
Pangarungan added that he has already asked the poll body's law department to submit all possible actions that can be taken regarding the breach.
"But soon everyone will know because I want to assure everyone, you read my lips, we will not allow anyone to undermine the people's confidence in our electoral system. That is our pledge. That's why I ordered for full transparency without compromising the security of the ballots and the SD cards," he added.
The poll body chairman said Smartmatic has also been warned to ensure that a similar incident will not happen again.
Earlier, Senator Imee Marcos revealed that an employee of Smartmatic supposedly allowed a group of hackers to copy election data from a laptop issued by the company.
Marcos' revelation led to calls for a Senate investigation on the incident. (PNA)