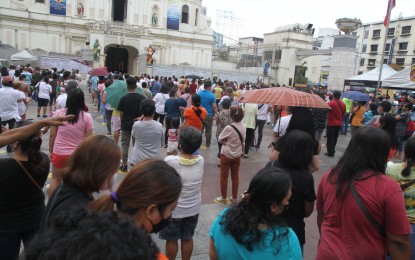 MANILA – The Minor Basilica of the Black Nazarene popularly known as Quiapo Church has resumed the traditional "pahalik" for devotees starting Friday.
Parochial vicar Fr. Douglas Badong, however, said the term only refers to the touching of the image of Black Jesus Christ which is at the altar of the basilica in Quezon Boulevard, Manila.
"It's not literally kissing the image, we just call it like that but it means, the people can touch the image. We will have ushers there to assist them, and touch the feet of the Black Nazarene," he said in an interview.
The Quiapo Church official also reminded the devotees to strictly observe minimum health protocols being implemented by the government.
"Before they will be allowed to touch the image, they have to sanitize, spray alcohol on their hands. Allowing them to be literally close to the image and pray at the feet of the Black Nazarene," Badong said.
He said the "pahalik" started at 4 a.m. and will run until the closing of the church.
While there is no limit on the number of people allowed, Badong reminded them to line up orderly and practice safe physical distancing.
"The line going to the altar is now at the back of Carriedo side, Evangelista Street. The former entrance in Quezon Boulevard is already closed," he added.
Asked if the resumption of the "pahalik" is in connection with the observance of Holy Week, the Quiapo official said, "Yes, and we would like to remind them to follow the basic protocols (of) wearing of face mask(s), social distancing. One has to be a disciplined devotee if you want to visit here."
Metro Manila is currently under Alert Level 1 where church activities are now allowed at full capacity. (PNA)