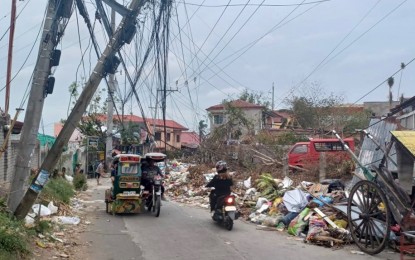 CEBU CITY – The city government here will hold a solid waste management summit to gather new concepts for solving the garbage woes in the capital city and as a prelude to the strict implementation of the "no segregation, no collection" policy.
In a virtual presser, Mayor Michael Rama on Monday said that since Typhoon Odette battered the city in December last year, he observed residents throwing garbage "indiscriminately" while Cebu City Hall employees were undertaking a clean-up drive in the villages.
As part of the plan to "bring back discipline", Rama said the city will strive to instill again the civic consciousness of the people to select their garbage for disposal at designated schedules and to segregate those that can still be recycled.
"But this is easier said than done. Thus, when we ascended as mayor, we gave prime to waste management, only interrupted by Odette. Be that as it may, we will in a few days undertake our waste summit," the mayor said.
The summit on April 6-8 at the SM City Seaside Mall here will solicit "ideas from our citizens in all sectors, and incorporate these to what will become a comprehensive waste management program," he said.
Reymarr Hijara, convenor of the summit, said the city government invited representatives of different sectors, national government agencies, non-government organizations, barangay officials, and the academe who could contribute ideas in crafting the city-wide waste management plan.
He said managers of waste-generating establishments such as hotels and restaurants were also invited to share their own concepts on waste segregation.
Moreover, in a bid to solicit foreign-assisted projects related to waste management, the city invited representatives from different embassies as well as the World Bank.
Rama said the city is also looking at some prototypes of solid waste management policies abroad.
"I've gone too many places of the world and have accessed all the types of systems and practices, (they are) the best as far as solid waste management is concerned and Cebu City deserves the best and we must always be mindful of that," he said.
Meanwhile, Rama said he is willing to listen to ideas for the city's waste-to-energy (WTE) project proposal, which is the subject of a proposed joint venture agreement (JVA) with New Sky Energy Philippines Inc.
Cebu City Council majority floor leader Raymond Garcia said the proposal is now open for public scrutiny and awaiting a better offer from other quarters.
The city is pushing for the implementation of the project despite questions about the "detrimental effects" of the incineration-based WTE on the environment.
Based on the JVA, the WTE facility will be built in the city and will be operational for 40 years. (PNA)