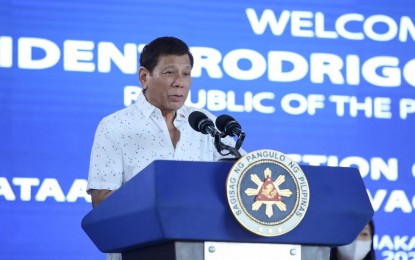 MANILA – President Rodrigo R. Duterte on Monday expressed confidence that the new evacuation centers currently providing temporary shelter for residents displaced by Taal Volcano's unrest would be of "great service" to all affected Filipinos before another disaster should strike.
"Now that we are experiencing challenges brought by the recent eruptions of Taal Volcano, I am confident that the evacuation center in Mataasnakahoy would be of great service to our affected kababayans," Duterte said in a speech after inspecting the evacuation center located in the municipality of Mataasnakahoy in Batangas.
The Mataasnakahoy evacuation center is one of the three evacuation centers strategically located outside the danger zone of a Taal Volcano. The other two are in the municipalities of Santa Teresita and Alitagtag.
Each evacuation hub can house 150 families or 600 individuals during calamities.
Duterte commended the people involved in the construction of the evacuation centers, noting that the facilities would not have been completed without their "passion" and dedication."
He said he takes pride in seeing how the government has opened a lot of establishments and inaugurated structures "that will certainly endure the test of time."
"We have likewise institutionalized long-term solutions for our kababayans even without finding a need to politicize our mandate as public servants," he said.
He also expressed hope that the government would be able to maintain the momentum towards building a "better and more resilient" nation for everyone.
"Now that I'm already at the tail-end of my term as president, we see how our shared values and vision towards progress and prosperity bear fruition. With our strength and solidarity we can overcome all the forms of trials and problems that test our character," he added.
For Duterte, it is during trying times that "the bayanihan spirit burns even brighter in the hearts of Filipinos."
The evacuation centers in Mataasnakahoy, Santa Teresita, and Alitagtag have key amenities and facilities.
Department of Human Settlements and Urban Development (DHSUD) Secretary Eduardo del Rosario led the inauguration and turnover of Batangas' three evacuation centers to their respective local government units (LGUs) on March 21.
The construction of the evacuation center was completed just under a year after the DHSUD finalized a memorandum of agreement for a grant to build the facilities in the three Batangas towns impacted by the Taal Volcano eruption in 2020, but situated outside the danger zone.
"The technical specification of these evacuation centers was based on the design of the National Housing Authority (NHA) and was duly approved by the President himself when I had presented it in the Cabinet way back 2018," del Rosario said in a media interview.
Each site has a floor area of 1,451 square meters complete with amenities like an administrative office and reception area, storage room, kitchen and mess hall, play area, health and consultation clinic, prayer room, conference room, breastfeeding area, basketball court, separate female and male comfort rooms, and rooms for couples.
It also has 40 toilets, 22 shower rooms, and nine urinal facilities that are proportionally divided and segregated for men and women.
Around 106 modular tents can also fit each open area.
The three evacuation centers are strategically located on safe grounds beyond the 14-kilometer danger zones -- Barangay Calayaan, Sta. Teresita; Barangay San Juan, Alitagtag; and Barangay Dos, Mataasnakahoy.
"It was funded through the socialized balance housing compliance program funds in order to address the needed gaps for housing settlements and community development," del Rosario added.
He said the construction projects were part of the government's response to the Taal Volcano eruption in January 2020.
The DSHUD, he said, is already implementing the land development for resettlement sites in five municipalities intended to accommodate families severely affected by previous eruption.
The NHA earlier awarded 585 housing units to displaced families.
After visiting the Mataasnakahoy evacuation center, Duterte also led the distribution of assistance to families displaced by the Taal Volcano eruption who are currently staying at the Agoncillo Central School in Batangas.
On Monday, the Philippine Institute of Volcanology and Seismology announced that it does not see Taal Volcano erupting like in 2020 although it continues to show signs of activity.
As of March 31, the National Disaster Risk Reduction and Management Council reported that about 2,047 families or 7,237 individuals in 18 Batangas villages are affected by the ongoing unrest.
Taal Volcano, following its March 26 phreatomagmatic eruption, remains under Alert Level 3. (PNA)