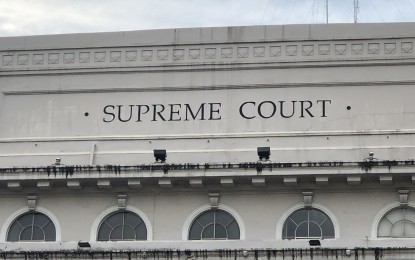 MANILA – The Supreme Court (SC) has affirmed the Court of Appeals (CA) in ruling as void ad initio (from the start) the marriage between two persons due to the lack of a marriage license when they were wed.
In a resolution uploaded last April 4, the SC Second Division turned down the petition filed by state lawyers contesting the 2018 decision of the CA which in turn affirmed the 2013 decision of the Caloocan regional trial court (RTC Branch 130) on the case for nullity of marriage filed by Reynold Q. Lazaro against his wife of five years, Jackelin L. Navarro-Lazaro.
The two married under civil rites at the Las Piñas City Hall after the woman became pregnant and later decided to part ways. During the proceedings, it was discovered that the marriage license purportedly issued by the municipal civil registrar of Imus, Cavite was spurious as it was not issued by the Imus civil registrar nor was among the licenses recorded in the said office.
Government lawyers tasked to prevent collusion between spouses in obtaining a quick divorce appealed the RTC ruling to the CA which sustained the RTC's finding that "the certification from the local civil registrar was adequate to prove the non-issuance of a marriage license".
The CA also noted that the marriage license presented was a mere photocopy.
In upholding the CA and the RTC, the SC reiterated that "certification(s) issued by the civil registrar enjoyed probative value, as his duty was to maintain records of data relative to the issuance of a marriage license" and that "absence of a marriage license rendered the subject marriage void."
The court also said there had been no testimony on how the couple obtained the supposed marriage license in the first place. (PNA)