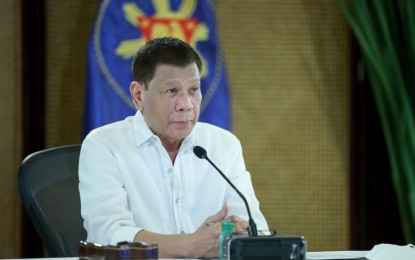 MANILA – President Rodrigo Roa Duterte will "always" uphold the Philippine national interest, Malacañang said Wednesday.
Acting presidential spokesperson and Communications Secretary Martin Andanar maintained that Duterte's stance will always be to continue defending the Philippines' sovereignty and territory despite its close ties with China.
"The President, while engaging in diplomacy in dealing with China will always protect our territory and uphold our national interest," he said in a Palace press briefing.
Andanar's statement comes after a People's Liberation Army-Navy "illegally" entered Philippine waters without permission from Jan. 29 to Feb. 1 this year.
Defense Secretary Delfin Lorenzana said the vessel was observing a joint exercise by the Philippine and United States (US) navies in the Sulu Sea.
Lorenzana noted that the area where the Chinese vessel was seen lingering was in the Sulu Sea and not in international waters.
Foreign vessels are only allowed innocent passage through the area, he added.
Andanar acknowledged that the Department of Foreign Affairs (DFA) has filed a diplomatic protest over the incident.
"The Department of Foreign Affairs has determined that these actions violate national sovereignty and has taken appropriate diplomatic action," he said.
He also said the DFA also summoned Chinese Ambassador Huang Xilian over the vessel's incursion in the Sulu Sea and called on China to respect Philippine territory and maritime jurisdiction.
"The DFA summoned the Chinese Ambassador to lodge a diplomatic protest regarding this incident," he added.
During the inauguration of the Binondo-Intramuros bridge on Tuesday, Duterte told Huang Xilian that Manila and Beijing "do not have any quarrel."
He also said the Philippines and China can also discuss their territorial disputes and the Filipinos' fishing rights within the contested waters.
"We can talk about the Spratly Islands and probably the fishing rights of my countrymen, plain talk, nothing else. In doing so, our people are given the chance to experience economic growth and enhance productivity," he said.
Duterte is scheduled to hold a virtual meeting with Chinese President Xi Jinping on April 8.
Xi initiated a dialogue with Duterte in light of a possible spillover of the conflict between Russia and Ukraine to Asia, including the Philippines and China. (PNA)