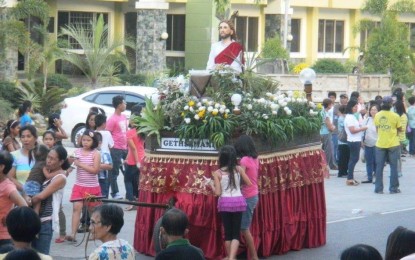 SAN JOSE DE BUENAVISTA, Antique – Local government units (LGUs) in Antique are given the decision of whether or not to allow the Catholic faithful to hold procession during Holy Week as 16 of its 18 municipalities are still under Alert Level 2.
Only the municipalities of San Jose de Buenavista and Sebaste, are under Alert Level 1.
Integrated Provincial Health Officer 1 Dr. Leoncio Abiera, Jr., who joined the provincial inter-agency task force for coronavirus disease 2019 (Covid-19) virtual meeting on April 5, said they received a letter of inquiry from the Roman Catholic Diocese of San Jose de Buenavista if they could hold processions during the Holy Week.
"During our meeting, the task force agreed to allow LGUs to decide," he said in an interview on Wednesday.
Abiera added that the letter particularly cited the holding of processions during Good Friday and Easter Sunday with an assurance to properly observe minimum health protocols.
"Our goal in our communal celebrations is to deepen our faith and connect our experiences from the pandemic to the passion, death, resurrection of our Lord Jesus Christ. With this goal, we must also ensure that, while our faithful meditate and reflect on these Holy Days, we must not compromise their health," according to the letter.
Parish priests, team ministries, and the Parish Pastoral Council (PPC) in the municipalities are also instructed to coordinate with their local Inter-Agency Task Force on the Management of Emerging Infectious Diseases (IATF).
So far only the San Jose de Buenavista LGU, Antique's capital town, is allowing the holding of procession on Good Friday.
Abiera added that only the Roman Catholic Diocese of San Jose de Buenavista has sent a letter to the provincial IATF while they are yet to know the plan of the Philippine Independent Church, which also usually holds procession during the Holy Week.
Last year, the churches held online masses in observance of the Holy Week because of the surge in Covid-19 cases. (PNA)