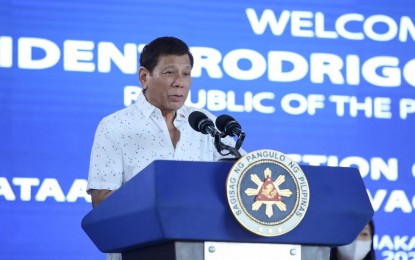 MANILA – President Rodrigo Duterte is still bent on putting an end to "abusive" work arrangements in the country, Malacañang said on Thursday.
This, after vice presidential aspirant Senate President Vicente Sotto III expressed dismay over Duterte's supposed failure to fulfill his promise to stop the unfair contractualization practices after the Chief Executive vetoed the Security of Tenure bill in 2019.
In a press statement, acting Presidential Spokesperson and Communications Secretary Martin Andanar said Duterte vetoed the proposed measure due to certain unsuitable provisions.
"While it is true that President Rodrigo Roa Duterte vetoed the Security of Tenure Bill in 2019, as mentioned by Senate President Vicente Sotto III, the Chief Executive explained that the version submitted by Congress unduly broadens the scope and definition of prohibited labor-only contracting, effectively proscribing forms of contractualization that are not particularly unfavorable to employees involved,'" Andanar said.
Duterte, Andanar said, is expecting Congress to craft a new measure that contains acceptable provisions that will benefit both the labor and business sectors.
"The President hopes that Congress would rectify the vetoed provisions as he remains committed to eradicating all forms of abusive employment practices and protecting the workers' right to security of tenure," he said.
Despite Duterte's rejection of the Security of Tenure bill, Andanar noted that the Chief Executive inked an executive order (EO) in 2018 to halt the "illegal" contracting and subcontracting arrangements between employers and their employees.
Andanar said EO 51, signed by Duterte on May 1, 2018, aims to protect the workers' right to security of tenure.
"A clear example is Executive Order No. 51 which PRRD signed in 2018 that strictly prohibits contracting or subcontracting undertaken to circumvent the worker's right to security of tenure, self-organization and collective bargaining, and peaceful concerted activities," Andanar said.
In July last year, Malacañang reiterated its call on Congress to pass the proposed Security of Tenure Act which remains to be a priority measure of the executive branch.
Labor Secretary Silvestre Bello also expressed confidence that the 18th Congress would pass the new version of the Security of Tenure bill.
The measure seeks to amend Presidential Decree 442 or the Labor Code of the Philippines to ensure that the rights and benefits of relievers and seasonal employees are at par with regular employees. (PNA)