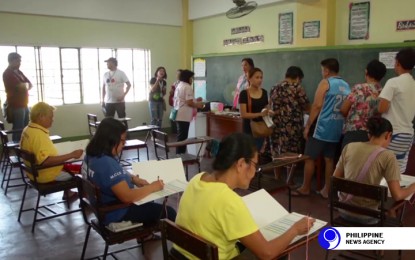 MANILA – For the first time in the history of the 60-year-old Caloocan City in northern Metro Manila, its residents of over 1.5 million will be electing three representatives to Congress in the May 9, 2022 polls.
This is because Republic Act (RA) No. 11545, enacted by the 18th Congress and signed into law by President Rodrigo R. Duterte on May 26, 2021, will be implemented by the Commission on Elections (Comelec) this year.
RA 11545 increased the number of Caloocan City's congressional districts from two to three by reapportioning the populous District 1 or North Caloocan.
The original District 1, composed of Caloocan barangays located north of Epifanio Delos Santos Avenue (EDSA), was divided into two districts. Eleven big and very populous barangays, including Bagong Silang, were segregated to form the third district. The rest of the barangays remain in District 1.
Caloocan, a former town of Rizal province, used to be part of the first district of Rizal from 1907. It became a city in 1962 and was included in the National Capital Region (NCR) with the existence of the Interim Batasang Pambansa (IBP) from 1978 to 1984.
In the election of members of the Regular Batasang Pambansa (RBP) in 1984, it was given two assemblymen who functioned until the 1986 EDSA People Power Revolution erupted in February of that year.
The city was allocated two congressional districts after Congress was revived under the 1987 Constitution. It remained in that status for 25 years although its population increased tremendously to 1,583,978 as of 2015, according to data from the Philippine Statistics Authority or PSA.
The redistricting law was authored by congressman Dale Malapitan, son of outgoing Caloocan City Mayor Oscar Malapitan.
The younger Malapitan, who is completing his third term in Congress on June 30, 2022, is running for the city's mayoralty post to be vacated by his father.
On the other hand, the elder Malapitan, who is also on his third term as mayor, is aspiring for the post to be left by his son. He had earlier occupied that same post before he became mayor.
The young Malapitan is facing in the race for the city's top post five other aspirants, including fellow outgoing congressman Egay Erice of the second district. The others are Jun Anquilan, Ruffy Nazareno Bayon-on, Roman Domasig Jr., and Toto Malunes.
The candidates for vice mayor are Karina Teh, PJ Maonzo, and Joseph Timbol.
Aside from the elder Malapitan, two others are seeking the city's first district congressional post. They are Alou Nubla and Violeta dela Cruz.
There are five aspirants for the second district congressional post, namely: Obet Samson, Maca Asistio, Jacob Reuben Cabochan, Mitch Cajayon-Uy, and Alex Mangasar.
Contesting the seat for the newly created third district are former Mayor and Congressman Enrico "Recom" Echiverri and Dean Asistio. (PNA)