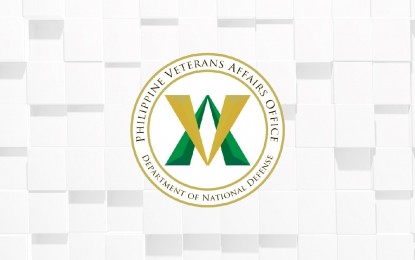 MANILA – At 113, retired Army Sgt. Malomalo P. Salag is the oldest living Filipino World War II veteran. He was born on Valentine's Day, Feb. 14, 1909.
Lt. Gen. Nesty G. Carolina (AFP, Ret.), administrator of the Philippine Veterans Affairs Office (PVAO), said of the 151,824 Filipinos who fought during World War II, there are 2,022 who are still alive as of Friday (April 8, 2022), 236 of whom are over the century mark. They continue to receive their monthly pension, plus free health care.
Carolina also said there are two Filipino World War II veterans -- Macaalang P. Ditanto and Alangadi O. Mauna, who are both 111 years old.
It was on April 9, 1942 when Bataan, the last stronghold of the Filipino and American forces in the Philippines during the war, surrendered to the Japanese, but not after a long fierce and bloody gun battle that lasted over three months when the defenders ran short of ammunition, food and medicine.
The Japanese thought they would conquer Bataan in a few days, but they were wrong.
It was during this battle that proved the heroism and bravery displayed by Filipino and American forces, despite being outnumbered and outgunned.
"There was an atmosphere of chaos and pandemonium. It was hell!" This was the curt and melancholic description in a book written by retired Constabulary Col. Jose V. Agdamag Jr., a Filipino veteran who saw action in the final battle of Bataan on the eve of the surrender of Filipino and American forces in the Second World War some 80 years ago.
The book, "150 Days of Hell", a must-read for the young generation, was written by Col. Agdamag in collaboration with his son, retired Navy Capt. Vicente M. Agdamag.
The older Agdamag described in detail the bravery and heroic deeds of the more than 100,000 Filipino and American soldiers, who defended Bataan against the onslaught of the invading Imperial Japanese Army on Dec. 8, 1941, which eventually triggered World War II in the Pacific.
Before invading the Philippines, the Japanese conquered one after the other neighboring Asian countries in their blitzkrieg offensive and thought the Philippines would fall in a month or less.
But the Filipino and American defenders showed their bravery in combat and withstood the Japanese's wave of attacks and held Bataan for over three months or 122 days before they surrendered due to exhaustion and extreme hunger.
"On 8 April 1942, Day 122 of the invasion, there was chaos in our position. I could see many Filipino and American soldiers in our immediate vicinity. The troops were disorganized and confused. As far as my platoon was concerned, we were still moving and operating as a team," Col. Agdamag wrote.
But with the bombardment by the Japanese, his platoon retreated to Cabcaban and Mariveles areas in Bataan.
Then the Japanese, particularly "the 65the Brigade, 4th Division and Nagano Detachment were advancing towards Limay and Lamao area," he said.
At the pace they were retreating, Col. Agadamag feared they would run out of withdrawal areas as the Japanese pressed their attacks.
From a distance, he could see Manila Bay.
"As we retreated, artillery fires were raining over us," he said, adding that at the same time, the Japanese Air unit dropped bombs on their position.
Col. Agdamag narrated, "three months of malnutrition, malaria and intestinal infections, left the soldiers weak and disease-ridden totally incapable of the sustained physical effort necessary for a successful defense."
The fall of Bataan was not the end of the war as Filipino and American soldiers who escaped continued the fight as guerrillas all over the country until liberation came following the landing of Gen. Douglas McArthur on Oct. 20, 1944. (PNA)