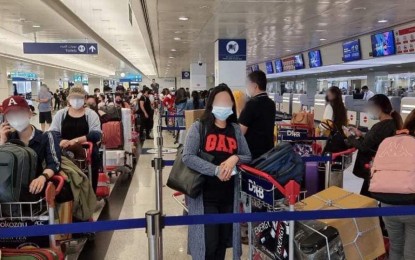 MANILA – Three countries are being considered as employment markets for overseas Filipino workers (OFWs), the Philippine Overseas Labor Office (POLO) in Lebanon reported on Friday.
Labor Attache Alejandro Padaen said they are looking at Turkey, which is also under the jurisdiction of POLO together with countries of Georgia, Azerbaijan, and north Cyprus, as other employment destination for Filipino workers.
"Turkey is a good prospect as an employment market for our workers once everything has normalized," he said in a virtual forum.
The current number of Filipino workers there is 4,000.
"Slowly, the number is increasing since we have a regular deployment there," the POLO-Lebanon added.
Among the OFWs in the host country are skilled workers, household services workers (HSWs), and those in the service sector.
Padaen said the minimum salary of HSWs is US$800 per month. The amount is almost double the salary of these workers in other countries.
"Recently, we approved a job order for workers in a big tuna factory which is managed by a Filipino," he said.
Padaen said, so far, they have accredited 11 foreign recruitment agencies (FRAs) for the deployment of HSWs.
"Another good prospects are Georgia and Azerbaijan because they have oil and gas sector there. Although we already have workers there, skilled and of course HSWs," he added.
In Northern Cyprus, the OFWs who are already working there are HSWs, cleaners, staff in hotels and working in bazaars.
Padaen advised Filipinos who are looking to work abroad to transact only with recruitment agencies accredited by the government, or the Philippine Overseas Employment Administration (POEA). (PNA)