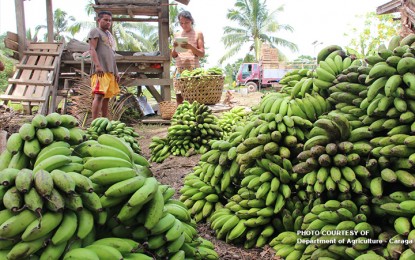 MANILA – About 1,000 farmers in Bukidnon will benefit from a banana processing technology through the aid of the Department of Science and Technology (DOST), Secretary Fortunato de la Peña announced Friday.
In a video-recorded report, de la Peña said banana farmers in Lantapan, Bukidnon could use a banana chips processing facility that will soon be established in the area.
The project's main beneficiary, the Rural Improvement Club (RIC), received a set of banana chips processing equipment worth PHP102,960 from DOST-Bukidnon.
The DOST has also scheduled hands-on training on banana chips processing, food safety, and good manufacturing practices.
"The 41 members of RIC are expecting additional income of around PHP20,000 per month once the facility is in full operation, through their main product – (the) native Cardava chips," de la Peña said.
About 20 locals will be employed to manage the livelihood intervention, he added.
"Banana chips processing will involve the participation of local banana growers, housewives, and their children. The profit can help provide for their needs. This will also empower them to adopt new technologies and techniques that they may find useful in other aspects of their lives," de la Peña said.
Acquired for the project are a stainless steel preparation table, stainless steel mixing bowl, stainless steel oil strainer, vegetable cutter, cauldrons with a brick furnace, digital weighing scale, and plastic sealer.
With the equipment, he said, banana chips processing would be more efficient and food safety compliant.
This project was made possible through the DOST's Community Empowerment through the Science and Technology (CEST) program.
The CEST aims to alleviate poverty in the country by empowering the poorest and most depressed communities through science and technology interventions in health and nutrition, water and sanitation, disaster risk reduction, and climate change adaptation. (PNA)