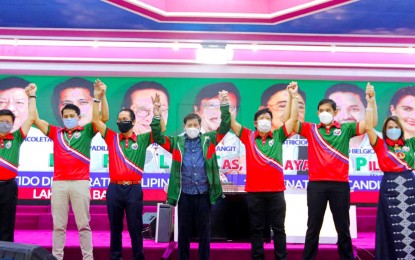 MANILA – The Partido Demokratiko Pilipino-Lakas ng Bayan (PDP Laban) senatorial aspirants lauded the economic policies adopted by President Rodrigo Duterte, resulting in marked improvement in the number of Filipinos finding jobs to support their families amid the Covid-19 pandemic.
The ruling political party's "Lucky 7" senatorial candidates are House Deputy Speaker Rodante Marcoleta, former Presidential Legal Counsel and presidential spokesperson Salvador Panelo, former Energy Undersecretary Astra Pimentel, actor Robin Padilla, multi-awarded broadcaster Rey Langit, former anti-corruption czar Greco Belgica, and former Agrarian Reform Secretary John Castriciones.
Based on the Philippine Statistics Authority's (PSA) preliminary February 2022 Labor Force Survey, an estimated 3.13 million unemployed individuals aged 15 years old and above were unemployed, lower by 1.06 million as compared to 4.19 million in the same month last year.
Socioeconomic Planning Secretary Karl Chua said relaxed movement and mobility led to significant employment creation during the month.
The economic movement showed positive signs after President Duterte issued Executive Order No. 166 as per the proposal of the Economic Development Cluster, embodied in the 10-point policy agenda to accelerate and sustain recovery from the pandemic.
"We reached this development because of correct Covid-19 pandemic response by President Duterte. That is why the unemployment rate in February remained at 6.4 percent, lower than 8.8 percent in February 2021," Marcoleta said in a news release on Friday.
He added the PDP-Laban bets will continue to implement the measures of the Duterte administration and focus on issues involving oil prices and electricity and water rates.
For his part, Langit said the data showed more can be done to improve the lives of Filipinos.
"Recent amendments to some economic measures will help generate more jobs for Filipinos such as the amended Foreign Investments Act and the Retail Trade Liberalization Act to attract more foreign investments to be injected into the economy," he said.
Belgica said the government should explore the flat tax system and promote venture capitalism which may help jumpstart the economy post-pandemic.
Flat tax means the imposition of the same percentage of tax across all income brackets, and scrapping other unnecessary taxes such as value-added tax (VAT).
According to a report by Forbes in 2016, a total of 40 countries and jurisdictions, including Hong Kong, have varying systems of flat tax which have worked well.
Belgica emphasized that this will leave more money in people's pockets at their discretion and will bring the cost of goods down with the removal of VAT.
Meanwhile, Pimentel proposed to have increased government support to medium and small-scale industries, which are most affected by the pandemic, through capital and low-interest loans. (PR)