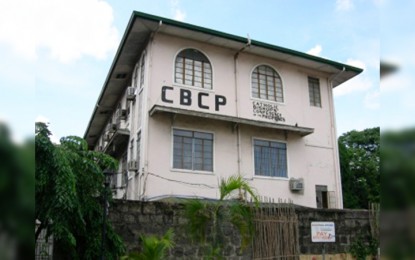 MANILA – Caritas Philippines, the social action arm of the Catholic Bishops' Conference of the Philippines (CBCP), on Saturday reminded the Filipino families of the Palm Sunday celebration, which is also the Alay Kapwa Sunday.
Bishop Jose Colin Bagaforo, national director of Caritas Philippines, appealed for the generosity of the faithful as Roman Catholics around the world observe the Holy Week starting April 10.
"We would like to urge everyone to support our Alay Kapwa program as we all observe the Holy Week. Last year, through your kindness, generosity, and compassion, we were able to help a hundred thousand marginalized families with community programs," he said in a statement.
"That is why we appeal to all Filipino families for support. Together, we can reduce, eliminate, and eradicate poverty through pagmamalasakit, pagbabahagi, at pag-a-alay-kapwa," added the Kidapawan bishop.
Every Palm Sunday, all second collections in masses all over the country are gathered for the Alay Kapwa programs of the dioceses and Caritas Philippines.
"As Caritas Philippines celebrates its 56th founding year, we would like to make sure that we are leaving a legacy of truly being the heart of the Church of the Poor, through long-term, high-impact programs implemented with our local social action centers, for our communities," Bagaforo said.
On the other hand, Fr. Antonio Labiao, national Caritas' executive secretary, said they cannot afford to stop their programs from responding to the major problems in the communities just because there is international donor fatigue.
"That is why, since 2020, we have devised strategies to strengthen our local resource mobilization. And since then, we have come to realize that Filipinos share our promise of leaving no one behind, especially during difficult times," he added.
In 2020 during the height of COVID-19, the Alay Kapwa solidarity through the Caritas Kindness Stations in more than 50 dioceses provided the daily food needs of more than 150 poor communities.
In 2021 during Typhoon Odette's response by the Catholic Church, over PHP114 million worth of Alay Kapwa donations to all 11 affected dioceses were received.
"This year, the continuing humanitarian response seeks to construct brand new houses and provide more stable sources of livelihood to 11,000 families, worth PHP400 million," he said.
"From a considerably very low number of local donors, we have seen a significant increase of over 4,000 Filipino families supporting our 7 Alay Kapwa Legacy Stewardship Programs in the dioceses," Labiao added.
The seven programs include youth development, family feeding, livelihoods, and food security, humanitarian response, institutional capacity building, good governance and justice, peace, and ecology.
Alay Kapwa is the Catholic Church's solidarity program mainly used to fund the humanitarian, development, and advocacy programs of Caritas Philippines and the 85 Diocesan Social Action Centers. (PNA)