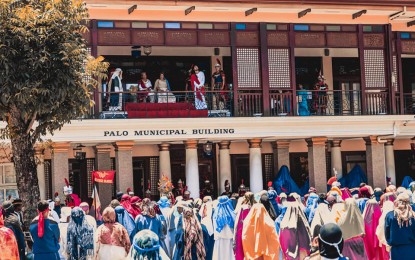 TACLOBAN CITY – The Archdiocese of Palo will resume the traditional Holy Week rites in this town after it was canceled for two years due to pandemic restrictions.
Fr. Chris Arthur Militante, spokesperson of the Roman Catholic Church Archdiocese of Palo, said preparations have been ongoing for one of the country's oldest live reenactments of the passion and death of Jesus Christ.
"Since we are now under alert level 1 and the government allows large gatherings, there will be reenactments in Palo town this week. We expect that pilgrims will again physically witness Lenten activities," Militante said in a phone interview.
The Lenten presentation, known locally as "Pamalandong," is considered Eastern Visayas' most known reenactment of the passion and death of Jesus Christ.
The reenactment starts at noon on Good Friday (April 15) and ends at 3 p.m. when Christ is crucified. All penitents are played by men. They join the play on the Palo Cathedral grounds as a form of offering to the Lord.
These men stay on until Black Saturday with some of them guarding the "body" of Christ in Palo Cathedral until Easter Sunday.
The person playing the role of Jesus will not be nailed to the cross during the play. Up for display, instead is a life-size image of Christ on the cross.
"Physical presence is a different experience, and we are happy that we will be together to pray and remember the sacrifices of Christ," Militante added.
The reenactment is followed by the "Siete Palabras" where priests, acting as speakers, interpret the Last Seven Words of Jesus.
Before the reenactment, there will be a Mass at the cathedral on Friday morning, followed by the Station of the Cross. Confession is then offered prior to the play.
The day's activity will be capped by a procession dubbed "Santo Entierro", where the "body" of Jesus Christ is paraded around the town's main streets.
Those who will not join the procession have the option to climb the Guinhangdan Hill as part of their penance.
The old cross atop the Guinhangdan Hill, which was built in the early 1960s, is one of the most concrete manifestations of the Catholic zeal in the town after the Jesuits arrived to bring Christianity to its inhabitants in 1596 and after the town survived World War II in the 1940s.
Palo town is home to the offices of the ecclesiastical government of the Roman Catholic Archdiocese of Palo; the archbishop's residence; as well as the secondary, tertiary and theology seminaries of the archdiocese.
The diocese has 1.2 million Roman Catholic residents, 63 parishes, one chaplaincy and 13 mission stations, divided into two districts -- the Eastern District for Waray-speaking people and the Western District for Cebuano-speaking residents. (PNA)