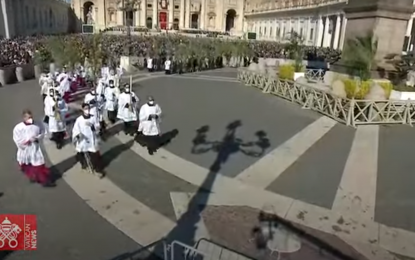 MANILA – St. Peter's Square in Vatican City was filled with devotees on Sunday, two years since the coronavirus disease 2019 (Covid-19) pandemic erupted.
Vatican City buzzed with activities on Palm Sunday with thousands of pilgrims from different parts of the world carrying palm branches.
Pope Francis called for a truce in the Ukraine-Russa conflict and for both countries to negotiate.
"Let them lay down their arms. Let an Easter truce begin, and let us avoid reloading weapons and fighting again. No. Let us have a truce that brings peace through real negotiation. Let us also be willing to make some sacrifice for the good of the people. Indeed, what kind of victory will it be if, in the end, we place the flag on a pile of rubble?" Pope Francis said in Italian, as stated in the website www.vatican.ca.
Only 200 participants were allowed to enter the St. Peter's Basilica during the Palm Sunday celebration in 2021 due to pandemic restrictions.
On Holy Thursday, Pope Francis will celebrate the Chrism Mass where priests will renew their vows made at their ordination.
On Good Friday, a liturgy will be held in silence to contemplate the passion and death of Jesus Christ, and in the evening, the traditional Station of the Cross will be held at the Colosseum in Rome.
For the Easter Vigil on Saturday night, a traditional candle-lit procession will be held inside the basilica.
Holy Week will end with the Easter Sunday mass in St. Peter's Square that will be followed by Pope Francis' Urbi et Orbi (to Rome and the world) where he will give his address and apostolic blessing from the balcony of the basilica.
At the start of the Lenten season, Pope Francis said that it is a favorable time for personal and community renewal, calling on the people to continue doing good.
With the current situation in Ukraine, Pope Francis said that it is like Christ being crucified again.
"Yes, Christ is nailed to the cross once again in the mothers who mourn the unjust death of their husbands and children. He is crucified in the refugees fleeing bombs with children in their arms. He is crucified in the elderly who are abandoned to die, in the youth deprived of a future, in the soldiers sent to kill their brothers. Christ is being crucified in those ways today," Pope Francis said in his homily. (PNA)