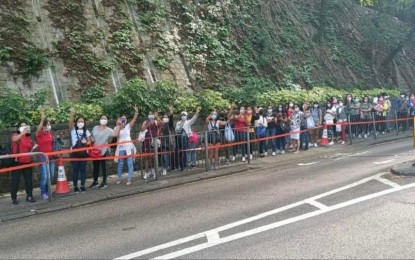 MANILA – Except for a few unavoidable issues, the Commission on Elections (Comelec) said Monday the first day of the overseas voting that started on Sunday for Filipinos working and living abroad was "generally peaceful".
Commissioner Marlon Casquejo said the initial day of the month-long electoral exercise encountered just minor problems.
"So we can see that it is generally peaceful and the opening of our posts was successful except for some issues that can't be avoided or logistical issues because of Covid-19 situations," said Casquejo, head of the Comelec-Office for Overseas Voting, in a press conference.
He said all but three of 92 posts in different countries and territories opened, except those in Islamabad, Timor Leste, and Shanghai, China.
"In Islamabad, there has been an issue on the release of election materials at the Pakistan Customs and it is expected to be released today (Monday). For Timor Leste, the problem is the flights from the Philippines going to Timor Leste, so our Department of Foreign Affairs officials are on standby. There is an expected flight this Thursday via Kuala Lumpur going to Timor Leste," he said.
He said Shanghai has implemented lockdowns and staff cannot be mobilized. The Chinese city reported 25,000 new Covid-19 infections on Monday.
"All the materials are already in Shanghai but they have yet to be delivered to our posts because of the Covid-19 restrictions," Garcia added.
He also reported that they will be adding five more vote counting machines (VCMs) in Hong Kong in preparation for the influx of voters, especially on weekends.
Hong Kong has 93,886 registered Filipino voters.
"We sent an advisory to the post to submit an additional five sets of Special Board of Election Inspector so by tomorrow or by Wednesday, our five VCMs will double," Casquejo said.
With the additional VCMs, he said the HK post can accommodate up to 5,000 voters per day.
Commissioner George Garcia also debunked claims on social media that some ballots in Singapore and Dubai have been pre-shaded.
"We did not receive any report from our post or any of our officials. Therefore, that is fake news," Garcia said.
The Philippine Embassy in Singapore confirmed just one case of a spoiled ballot "inadvertently and unintentionally" given to a voter on Monday morning.
Quick action
Meanwhile, Senators Leila de Lima and Imee Marcos called on the Comelec and the Department of Foreign Affairs to resolve other reported setbacks.
Marcos, who chairs Committee on Electoral Reform, said in a statement Monday that her office received reports of inconsistent voting hours, with some ending mid-afternoon and others extending into the night.
"Long lines, the delayed shipment of election paraphernalia, and unreceived mail-in ballots are preventing many OFWs (overseas Filipino workers) from voting," she said.
Marcos stressed that government offices abroad should not wait for a last-minute scramble to implement remedies as thousands of OFWs will end up being disenfranchised.
"The immediate solution is to extend voting hours at our embassies and consulates, while the logistical challenges of setting up more voting precincts still have to be sorted out by the Comelec," she said.
De Lima said Comelec should not disregard the reported lack of effort from the Philippine posts to inform absentee voters about electoral processes.
"Kung hindi maayos na matugunan ang mga isyu na kinakaharap ng mga kababayan natin sa abroad ay maraming boto ang maaaring masayang, o kaya naman ay maging sanhi ng iregularidad at pandaraya (If the issues being faced by Filipinos abroad will not be addressed, plenty of votes might be wasted or could possibly cause irregularities and fraud)," she warned in a separate statement. (With a report from Wilnard Bacelonia/PNA)