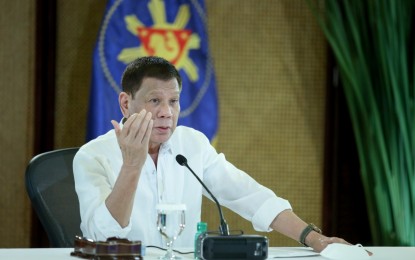 MANILA – President Rodrigo Roa Duterte scored higher approval and trust ratings just over two months before he ends his term, according to the results of a Pahayag 2022 first quarter survey conducted by PUBLiCUS Asia Inc.
The March 30 to April 6 survey, released Monday, showed 67.2 percent of the 1,500 respondents saying they either "approve" or '"strongly approve" of Duterte's performance as president over the past 12 months.
This figure is 2.3 percentage points higher than Duterte's 65 percent approval rating in the first quarter of 2021.
Duterte's trustworthiness was rated either as "high" or "very high" based on 61.2 percent of respondents, up by 6.2 percentage points from his 55 percent trust rating in the same period last year.
His disapproval rating for the first quarter of 2022 was 15.2 percent and his low trust rating was 16.6 percent.
PUBLiCUS Executive Director Aureli Sinsuat said Duterte is on pace to become the first president in recent history to end his term with approval and trust ratings above 50 percent, a "rarity" in Philippine presidential politics.
On the other hand, the approval rating for Vice President Maria Leonor "Leni" Robredo was at 32.3 percent, which is 3.3 percentage points higher than her 29 percent approval rating in the first quarter of 2021.
Her trust rating increased by 8.5 percentage points from 18.7 percent to 27.2 percent.
She also earned the highest total disapproval and total low trust ratings among the top five government officials.
The survey showed that 42.2 percent of respondents said they "disapprove" or "strongly disapprove" of Robredo's performance over the past 12 months while 48.2 percent said they put "no trust" or "low trust" in the vice president.
Senate President Vicente "Tito" Sotto III's approval rating was at 38 percent, House Speaker Lord Allan Velasco's was at 23.8 percent, and Chief Justice Alexander Gesmundo's was at 23.7 percent.
Their trust ratings were at 25.3, 14.6, and 14.4 percent, respectively.
PUBLiCUS said the 1,500 respondents who participated in the survey were randomly drawn by the Singapore office of American firm PureSpectrum from its market research panel of over 200,000 Filipinos.
The final survey panel was restricted to registered voters. (PNA)