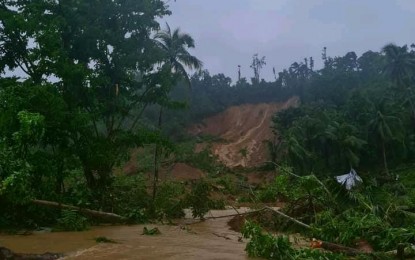 MANILA – The onslaught of Tropical Depression Agaton has caused over a dozen deaths in Baybay, Leyte, mostly due to landslides, an official of the National Disaster Risk Reduction and Management Council (NDRRMC) said Monday.
NDRRMC executive director Ricardo Jalad said official reports show that "Agaton" left three persons dead, one missing and two injured.
But citing unofficial reports from Baybay, Jalad said 14 persons were dead and five missing at Barangay Bunga in Baybay.
"But mayroon unofficial report na natanggap tayo diyan sa Baybay, Leyte na mayroon 14 na patay, lima ang missing, diyan sa Barangay Bunga ng Baybay, ay may 20 missing; diyan sa Barangay Mailhi ay mayroon 11 na patay (But we have received an unofficial report in Baybay, Leyte saying that there are already 14 dead and five missing there, while in Barangay Bunga, also in Baybay, there are 20 missing, in Barangay Mailhi, there are also 11 dead). Tinitingnan din natin itong Barangay Kantagnos, although may isang lang ang patay diyan, base sa unofficial report ay malawak ang area na apektado (We are also looking at Barangay Kantagnos, although there is only one death reported there, base on unofficial reports a wide area is affected)," Jalad said during a Cabinet meeting with President Rodrigo R. Duterte.
Quoting reports of Baybay City Mayor Jose Carlos Cari to the Office of Civil Defense, Jalad said many of those who died were due to the landslides triggered by "Agaton".
"Although hindi pa indicated sa situational reports na maraming patay dahil sa landslide (That was the report of the Baybay mayor to the OCD Mr. President, although this is still not indicated yet in the situational reports)," he added.
Jalad, who is also Civil Defense administrator, said search-and-rescue and retrieval operations are ongoing, being carried out by the military, police, and personnel of the Philippine Coast Guard, Bureau of Fire and local response units.
The NDRRMC Operations Center is keeping a tight watch over the situation in Region 8, particularly in Baybay, Leyte.
In the same meeting, Jalad said that 224 areas in Regions 6, 7, 8, 10, 11, 12, Caraga, and the Bangsamoro Autonomous Region in Muslim Mindanao have experienced incidents of flash floods and floodings.
In its Tuesday update, the NDRRMC said the number of families affected by "Agaton" has climbed to 95,741 or 139,146 persons residing in 274 barangays in Regions 5, 6, 7, 8, 10, 11, 12, Caraga and the Bangsamoro Autonomous Region in Muslim Mindanao.
Around 117 evacuation centers are sheltering 4,681 families while the others are aided outside or being assisted by their families and friends.
The agency has confirmed reports of two injured in Regions 10 and 12 and still confirming reports of 20 deaths in Regions 7, 8, 11 and that of a missing person also in Region 11. (PNA)