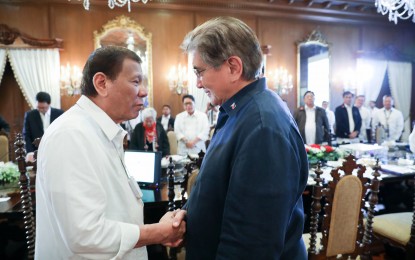 MANILA – The nation needs "quiet" but hardworking people like reelectionist senator and former Department of Information and Communications Technology (DICT) secretary Gringo Honasan II back in the Senate, President Rodrigo Duterte said.
Duterte made this remark while interviewing Honasan during the third episode of President's Chatroom on state-run PTV-4 aired on Monday night.
"Kasi kailangan ka ng bayan, iyong mga tao na tahimik kagaya mo (The country needs you, people like) you don't parade your achievements publicly, not even a single word about... Ako at ikaw nagkakaintindihan tayo niyan (You and I understand each other), we do not publicize what is the work that we are supposed to do and paid for," he told Honasan.
When he asked Honasan to rate his performance as former chief of the DICT, the latter said that he would let the figures speak for themselves.
"When we took over.... When your term started, sir, internet speed natin (our internet speed) was 7 megabits per second. Ngayon (Now), sir, 70. Tapos (And then), sir, connectivity improved by 800 percent, unprecedented 'yan (that's unprecedented), sir. But it is not to my credit. You gave us the objective and we have a professional core in one of the newest departments," Honasan said.
The reelectionist senator emphasized the need to "upgrade" the understanding of government in terms of ICT, noting that it should be used as a "driving force for development."
"My orientation, sir, my focus would be for future planning -- development planning purposes is our children. We prepare the next generation. That's as far forward as we can manage," he said.
To improve the country's agricultural performance and productivity, Honasan said he would harness digital technology.
"So what we want to do, sir, basically, is iyong legislative agenda ko, samahan ko na ng technology (I will include technology in my legislative agenda)," he said.
He said technology would also provide better-queueing systems, which will in turn, save time and money.
Duterte, in response, commended Honasan for his ideas as well as the DICT's "tremendous improvement" during his stint as the agency's chief.
"The people have the right to know what you are going to do since para sa akin (for me) you will be reelected and para malaman lang ng tao (so that people know), I am really supporting you to the hilt," the president said.
Honasan, a retired soldier who played a key role in the 1986 People Power Revolution, is part of the senatorial slate of presidential aspirant Ferdinand "Bongbong" Marcos Jr. and vice presidential bet Davao City Mayor Sara Z. Duterte.
He is running for the Senate as an independent candidate.
Honasnan said he opted to remain independent since political parties in the country were "temporary."
"It's temporary coalitions. So I think one effort should be to strengthen the political party system para klaro 'yung plataporma at programa (so that platforms and programs are spelled out)," he said. (PNA)