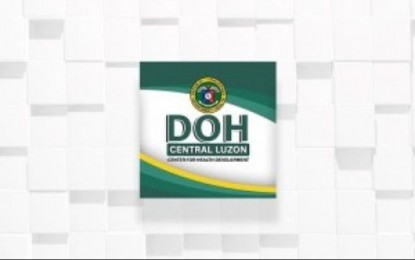 CITY OF SAN FERNANDO, Pampanga – The Department of Health-Central Luzon (DOH-3) on Tuesday reminded the public to continuously practice health and safety measures against coronavirus disease (Covid-19) during the observance of Holy Week.
DOH Regional Director Corazon Flores called on the people to be extra cautious in participating in Lenten activities, noting that the threat of Covid-19 remains.
"Let us continue to practice the minimum public health standards amid the easing Covid-19 situation in the region," Flores said in an interview.
To date, the seven provinces in the region -- Zambales, Bataan, Pampanga, Bulacan, Tarlac, Nueva Ecija and Aurora -- are under the Alert Level 1 community quarantine status.
Flores said those who will participate in all Holy Week activities must wear a face mask properly, regularly sanitize hands, and practice safe physical distancing.
Central Luzon, particularly the province of Pampanga, has been known for traditional Lent activities such as self-flagellation, "Pabasa" in makeshift shrines, and church visitation called "Visita Iglesia".
The city government of Mabalacat has allowed the physical staging of all Lenten rites and liturgical activities for the first time this year since the Covid-19 pandemic hit the country.
Mayor Crisostomo Garbo, however, cautioned everyone about the looming threat of the virus by enforcing adherence to government-mandated minimum public health standards.
The total number of confirmed Covid-19 cases in Central Luzon is 360,992, of which 3,008 are active infections.
The total number of recoveries is 351,381 while the total number of deaths is 6,603.
Meanwhile, the total number of individuals in the region who are now fully vaccinated against Covid-19 is 7,793,323 or 77 percent of the total 10.1 million target population.
Some 8,489,453 or 84 percent of the total 10.1 million target population received the first dose.
Around 1,772,012, or 17 percent of the 10.1 million target population received booster shots. (PNA)