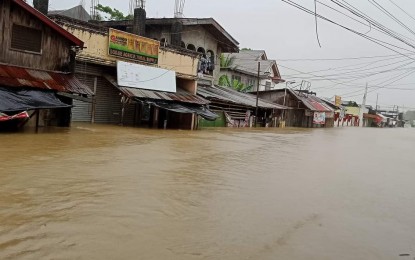 ILOILO CITY – The Office of the Civil Defense (OCD) in Western Visayas (Region 6) on Tuesday reported that the flooding due to Tropical Depression Agaton affected 12,989 families or 59,944 persons from 110 barangays in four out of six provinces in the region.
Cindy Ferrer, OCD 6 information officer, said based on their initial data as of 4 p.m. the floodings were reported in Iloilo, Capiz, Negros, and Aklan.
Out of those affected, 4,322 families or 18,501 persons are staying in 280 evacuation centers while 2,006 families or 8, 836 individuals are staying with their relatives.
At least 16 incidents of rain-induced landslides were recorded, with eight in Capiz, six in Iloilo, and one each in Negros Occidental and Aklan.
OCD has yet to receive reports on damage to infrastructures.
Meanwhile, the Regional Disaster Risk Reduction and Management Council, led by the OCD, said Western Visayas is still checking the validity of four casualties in Iloilo and Capiz provinces due to the floodings.
Ferrer said they have yet to receive the complete details of the reported one death and one missing each in Sara in northern Iloilo and Capiz.
The heavy rains and floods are concentrated in the province of Capiz and northern Iloilo, which is similar to the track of Typhoon Ursula in 2019, Ferrer added.
Based on the state weather forecast, "Agaton" is expected to move slowly early morning of Wednesday but is still risky for Western Visayas since the orange rainfall advisory is still hoisted over northern Iloilo.
The yellow rainfall advisory is raised over the southern portion of Negros Occidental, Guimaras, Antique, Aklan, Capiz, and the southern and central portion of Iloilo. (PNA)