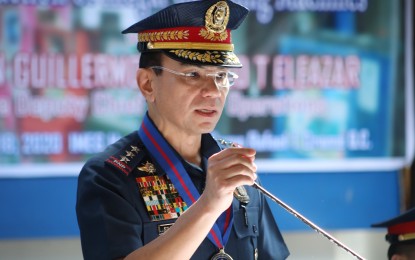 MANILA – Senatorial aspirant and former police chief Guillermo Eleazar on Wednesday urged the Commission on Elections (Comelec) to conduct a thorough investigation into the reported pre-shaded ballot in Singapore amid the overseas absentee voting.
This as netizen Cheryl Ab, a Filipino in Singapore, claimed that she had received a pre-shaded ballot from the Philippine Embassy there.
The embassy denied it but said there was an inadvertent incident in which a spoiled ballot was handed out to a voter on April 10.
The incident is now making rounds on social media and has been triggering allegations of electoral fraud. Eleazar said it is unfair to some candidates who would be dragged into this incident of which they have no knowledge.
"I am urging the Commission on Elections to investigate this incident and ensure that all measures are in place to prevent this kind of incident from happening (again)," he said.
He also urged other overseas Filipino workers who would experience similar incidents to immediately report them to authorities.
"I am also urging the public, including our netizens, to give the Comelec the chance to explain this incident. Let us do away with speculations and wait instead for the result of the investigation," he said.
According to the Comelec, it has not received any reports on the issue of pre-shaded ballots, but the Task Force Against Fake News will convene to discuss it.
As this developed, Eleazar vowed to empower the people of Marawi City in the rehabilitation efforts by ensuring that their voices are heard in the rebuilding and the development of the conflict-torn area.
Eleazar had a motorcade in Marawi City on April 11.
He also campaigned in Cagayan De Oro City and Balo-i, Lanao Del Norte. Marawi suffered severe damage during the months-long battle in the city between state forces and the ISIS-inspired Maute Group in 2017.
It has been undergoing rehabilitation and reconstruction ever since so that the lives of residents will go back to normalcy.
Eleazar said the participation of Marawi residents in the rebuilding process is based on the concept of bottom-to-top model of development wherein those affected in the communities should be included in the planning, implementation and monitoring of the progress of the programs and projects.
Various groups in Marawi City said they have been left out in the entire process of rehabilitation. Eleazar said he would make sure that transparency is observed in the entire rehabilitation efforts.
He said this must come with the prioritization of the livelihood of families for the affected residents and the education of children.
Given that Marawi City is far from the developed areas, he said it is possible that complete assistance has not been reaching the city. (With a report from Priam F. Nepomuceno/PNA)