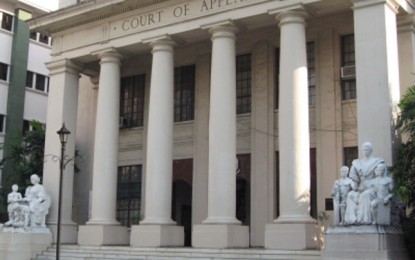 MANILA – The Court of Appeals (CA) has ordered a funeral parlor to pay nominal damages to the estranged daughter of a deceased who had demanded that her mother be cremated instead of buried.
In its April 5 decision, the CA modified the decision of the Regional Trial Court Branch 68 in Angeles City and ordered the deceased's nephew, Wilfredo Soriano, and Dr. Louie Samson to pay Dr. Maura Lorna T. David PHP10,000 in nominal damages.
Nominal damages are small sums fixed by the court without regard to the extent of the harm done to the injured party.
Soriano had taken care of his aunt, Adoracion V. Torres, who died in 2003 while living with her sister. Soriano had engaged the services of Pangilinan Funeral Parlor where Samson was the manager.
David, the deceased's daughter, arrived at the funeral parlor and expressed her desire not to have a public viewing and demanded that the remains of her mother be cremated and made an initial payment to Samson for the services.
Soriano later returned to the funeral parlor producing a last will supposedly made by Torres and supposedly showing that the daughter had been disinherited on the ground of abandonment and maltreatment, as well as containing Torres' wish to have a Catholic funeral.
In a subsequent confrontation, the funeral released the remains to the nephew and refunded the PHP10,000 to the daughter, prompting the latter to sue for damages.
David also demanded custody of the body which had been buried at the Holy Mary Memorial Park, as well as the exhumation and autopsy of the remains.
In the course of the proceedings, the issue of exhuming the body became moot after the National Bureau of Investigation failed to file its report on the matter.
The lower court ruled in favor of the daughter and David had preferential right, adding that the last will had not been probated - a court process to ascertain its validity.
The court also ordered the payment of PHP150,000 in damages, prompting the nephew and the funeral manager to appeal the case.
The CA, in its ruling, said while the Angeles court correctly ruled that David "had preferential right and duty in making the funeral arrangements of Adoracion, it erred in awarding moral damages and attorney's fees to appellee (David)."
Citing precedents, the CA said "the supposed strained relationship of appellee (daughter) and Adoracion (deceased) is inconsequential." The court, however, said the daughter failed to substantiate her alleged humiliation, embarrassment, anxiety, depression, and sleepless nights to entitle her to the full damages awarded by the lower court. (PNA)