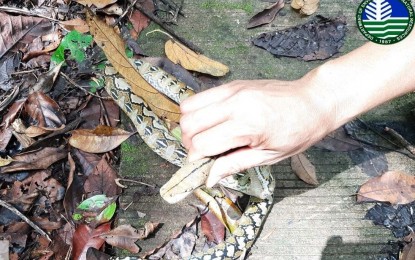 LEGAZPI CITY – The Department of Environment and Natural Resources-Bicol (DENR-5) through the Sorsogon Provincial Environment and Natural Resources Office (PENRO) has released a rescued reticulated python (Malayopython reticulatus) back into its natural habitat in the vicinity of Bulusan Volcano Natural Park (BVNP) in Bulusan, Sorsogon.
"Ernesto J. Labasbas, a resident of Barangay Bibincahan, noticed the snake in a nearby canal outside his property. Upon discovery, he immediately reported the same to the barangay officials for proper turnover," the DENR-5 said in a social media post on Wednesday.
DENR-Bicol said upon inspection of the rescued snake, PENRO-Sorsogon personnel promptly released it near the protected area.
The python weighs over a kilogram, with a length of over one meter.
Under DENR Administrative Order (DAO) No. 2019-09 entitled, "Updated National List of Threatened Philippine Fauna and their Categories", the reticulated python is considered as a threatened species.
All wildlife in the Philippines is protected under Republic Act 9147, otherwise known as the "Wildlife Resources Conservation and Protection Act."
DENR-Bicol urged the public to report the discovery and rescue of any wild animal and turn them over to proper authorities for proper handling and release to their natural habitat. (With a report from Glydel Sarcia/PNA-OJT)