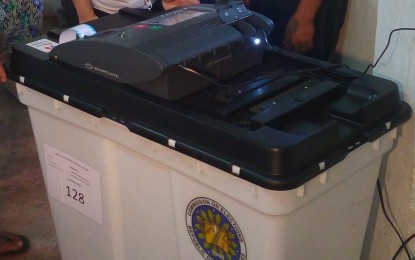 MANILA – Filipino voters abroad began casting their ballots for their chosen leaders on April 10 as the overseas absentee voting (OAV) kicked off.
Under the law, voters overseas have at least one month until May 9 to vote for national positions – one president, one vice president, 12 senators, and one party-list representative.
The Overseas Voting Act of 2013 states that voting may be done either by mail or personally at the premises of the embassies, consulates, and other foreign service establishments or in field voting centers or mobile voting centers.
To know about the mode of voting in your area, you may refer to the Commission on Elections (Comelec) updated list here.
You can then confirm your registration at the Comelec's Certified List of Overseas Voters (CLOV).
If voting in your area is via personal mode, you may proceed at the foreign service post or a designated mobile voting center, with your valid Philippine ID (e.g. passport) and follow these procedures:
• Present your passport or any valid ID to the Special Board of Election Inspectors (SBEI).
• Get the ballot, ballot secrecy folder, and marking pen, and make sure the ballot is new, not marked, torn, or smudged.
• Proceed to the voting area.
• Accomplish the ballot by fully shading the oval appearing before the name of the candidate you wish to vote for. Do not overvote.
• Insert the ballot into the Vote Counting Machine (for areas using the automatic elections system or AES) or ballot box (for areas with personal manual voting mode)
• Check your voter's receipt then deposit it in the receptacle (AES).
• If votes do not match, report to the SBEI.
What not to do?
• Campaign or distribute campaign materials within a 30-meter radius of the polling precinct.
• Wear campaign shirts and other accessories bearing logos or names of candidates.
• Show the contents of the ballot to any person.
• Take photos or make a copy by any means of the ballots and voter's receipts.
For areas following the postal voting, such as those in the United States, the ballots will be mailed to the voter's registered address.
Voters who have accomplished their ballots may then mail them back or personally drop them off at the embassy or consulate.
Qatar-based Filipino physician Maria Concepcion Borlasa, who had cast her vote personally on April 11, told the Philippine News Agency (PNA) that she found the process smooth and without a hitch.
Like any other voter abroad, she expressed hope that this year's elections would be fair and free from any irregularities.
The president whom she voted for? Someone who can "lead the country to be a great nation again."
Kuwait-based OFW Joelyn Marcial said she was also satisfied with the conduct of overseas voting at the Philippine Embassy in Kuwait on April 12.
"Madali lang ang pagboto at kaunti ang pila. Walang aberya kaya makakaboto ka nang maayos (It was very easy to go and vote and the queue was short. I didn't encounter any problem that's why I was able to vote fast)," she told the PNA.
Without naming her chosen president, she said she voted for a candidate "who has principles, who has compassion for fellow Filipinos, and someone who is not a thief."
For the May 2022 polls, the Comelec has recorded more than 1.6 million registered overseas absentee voters.
Almost half of them are based in the Middle East and Africa with 786,997, followed by the Asia-Pacific region with 450,282 Filipino voters.
Meanwhile, some 306,445 voters are in the North and Latin America region while 153,491 are in the European region. (PNA)