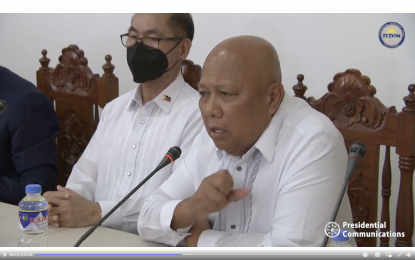 MANILA – The creation of the National Task Force to End Local Communist Armed Conflict (NTF-ELCAC) is "the best thing" that happened to the Philippines, Defense Undersecretary Cesar Yano said Wednesday.
Yano, who also heads the NTF-ELCAC's peace, law enforcement and development support cluster, said fighting the communist terrorist groups (CTGs) and their impact was best done through the government's whole-of-nation approach wherein all government agencies are working hand-in-hand to provide sustainable interventions to conflict-cleared areas and former combatants.
"We were in Caraga yesterday. The governors themselves have said: For the first in history, this NTF-ELCAC is the best thing that happen to our country," Yano said.
Yano, a retired military general, said the biggest defense of the CTGs is their firearms as well as their capability to harass people to follow their steps and sowing fears to companies so that they can extort more.
He said communist terrorism has brought so much suffering to the country and its people for more than 53 years.
The continuity of development efforts pushed by the anti-insurgency is needed, he added.
"Tapusin na natin ito. Hayaan na natin na magreklamo ng magreklamo sila (Let's end this. Don't worry about them keep on complaining), anyway we have the support of the entire nation," Yano added, pertaining to members of leftist militant organizations hitting the NTF-ELCAC over "red-tagging" issues.
The same left-leaning groups also called for the abolition and defunding of NTF-ELCAC.
Under his cluster, Yano said the government is determined to end the communist armed struggle and their recruitment schemes.
"Maganda 'yung samahan namin. Bakit bubuwagin pa namin ito. Ituloy natin ito (We have a good team. Why would dismantle it. Let's continue this)," Yano said.
The NTF-ELCAC pushed almost 24,000 members of the Communist Party of the Philippines-New People's Army (CPP-NPA) to return to the fold of the law.
A proof that the "whole-of-nation approach" of the Duterte administration to address communist insurgency "really works."
The CPP-NPA is listed as a terrorist organization by the United States, the European Union, the United Kingdom, Australia, Canada, New Zealand, and the Philippines.
The National Democratic Front (NDF) has been formally designated as a terrorist organization by the Anti-Terrorism Council on June 23, 2021, citing it as "an integral and inseparable part" of the CPP-NPA created in April 1973. (PNA)