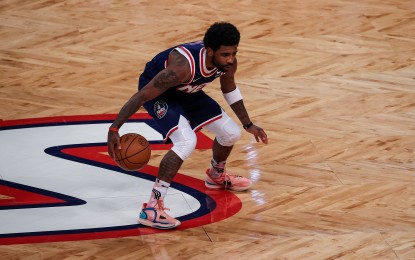 ANKARA – Brooklyn Nets secured the No. 7 seed with a 115-108 play-in win over Cleveland Cavaliers late Tuesday.
Kyrie Irving led the Nets with 34 points and 12 assists, while Kevin Durant added 25 points and 11 assists.
In a post-game interview, Irving explained how he is able to play as a Muslim player while fasting during Ramadan.
"Well, it's a journey with God. I'm not alone in this. I have brothers and sisters all around the world that are fasting with me. We hold our prayers and meditation very sacred and when you come out here. I mean God is inside me, God's inside all of us, so I'm walking with faith. That's all that matters. When I get a chance to do it in this type of arena and showcase my talent strictly granted to me by God, I'm humbled," he said.
Bruce Brown finished with 18 points, nine rebounds and eight assists, while Andre Drummond scored 16 points.
For the losing side, Darius Garland scored 34 points for the Cavaliers and Evan Mobley had 19 points.
The Nets will take on the Celtics in the first round.
In another play-in game, Minnesota Timberwolves beat Los Angeles Clippers 109-104 to seal the No. 7 seed in the Western Conference.
The Clippers will face San Antonio Spurs-New Orleans Pelicans winner, while the Timberwolves will take on Memphis Grizzlies. (Anadolu)