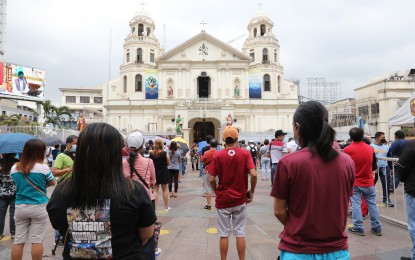 MANILA – The Minor Basilica of the Black Nazarene, popularly known as Quiapo Church, appealed to devotees to strictly follow the minimum health protocol during the motorcade of the religious image on Good Friday at 12 a.m.
In an advisory posted on its Facebook, the Minor Basilica reminded the people that there will be no carrying of the image of the Black Nazarene.
"The carrying of the image is prohibited and there's no rope or lever. We will also prevent pushing or shuffling of people," it said.
"Walking barefoot is being discouraged. Devotees are asked to wear slippers or shoes. Also, the wearing of masks and physical distancing are being encouraged," it said.
It also asked the public to control themselves and be solemn as the image will be brought out of the church.
"A true devotee has discipline and understands the situation. The Lord Nazarene prefers the safety and health of each one of us," it added.
On Good Friday, Roman Catholics mourn the death of Jesus Christ, who died on the cross to redeem the sins of the world. (PNA)