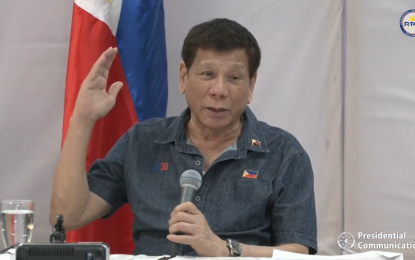 MANILA – President Rodrigo R. Duterte on Friday promised to provide emergency food and shelter assistance to the victims of Tropical Depression Agaton that slammed parts of Visayas and Mindanao this week.
"So mao lang na ang akong gianhi nga naay gobyerno, wa gyud mo malimti. Usbon nako, and I repeat, pagkaon walay problema. Hantod sa hantod, og gusto mo di nalang mu mupalit og bugas, naa na moy balay, adtua lang si – the DSW(D) (So this is what I came here for, to let you know that the government has not forgotten you. I will say this again, and I repeat, food won't be a problem. You will be given food to eat until the end of time, even after you've rebuilt your houses, you can even stop buying your own rice if you want. Just approach the DWSD)," the President said in a speech delivered at Baybay City Senior High School.
Duterte visited Baybay City, Leyte, one of the areas severely hit by "Agaton".
While he only has a little more than two months left before he steps down, the Chief Executive guaranteed that he would use his last days in office ensuring that shelter aid would be given to the victims.
Duterte, however, asked for the patience and understanding of affected families with damaged houses, as he admitted that it would take some time to grant the assistance to rebuild.
"So kanang two months nabilin pagka-Presidente nako, di na gyud ko makatabang. Ang matabang nako nga mahapsay lang namo unsay inyong buhaton para makab-ot ninyo ang mga balay (There are only two months left of my presidency, so I won't be able to do much to help you. But what I can assure you is that I will help make sure that preparations will be in place to help give you new houses)," he said.
A total of 9,266 houses were reportedly damaged in the Bicol region, Western Visayas, Central Visayas, Eastern Visayas, Northern Mindanao, Davao Region, Soccsksargen, and Caraga, based on the report released by the National Disaster Risk Reduction and Management Council (NDRRMC) on Friday.
About 2,068 villages in Bicol, Western Visayas, Central Visayas, Eastern Visayas, Northern Mindanao, Davao, Soccsksargen, Caraga, and the Bangsamoro Autonomous Region in Muslim Mindanao (BARMM) were also hit by the first tropical cyclone to hit the country this year.
About 65,130 displaced families are still in evacuation centers following the onslaught of "Agaton". (PNA)