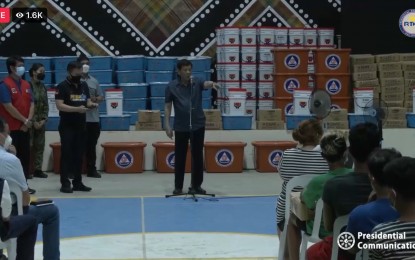 MANILA – President Rodrigo Duterte agreed on Friday that the resumption of face-to-face (F2F) classes is vital in restoring normalcy to the country amid the prevailing coronavirus disease 2019 (Covid-19) pandemic.
This was after Duterte expressed confidence in the Department of Education's (DepEd) readiness to supervise the gradual expansion of in-person classes nationwide.
During his visit to typhoon-hit Baybay City in Leyte province, Duterte backed the reopening of physical classes, saying the number of Covid-19 cases in the country is on the decline.
"Ang problema pud sa eskuwelahan kay ang desisyon sa Secretary of Education mubalik na man. Tama na. Para nako, kinahanglan mubalik na ta sa normal. Wala na man kaayo'y takod (The problem is the Secretary of Education has decided to resume face-to-face classes. But that's right. For me, we need to go back to normal. Anyway, the infection rate has decreased)," he said.
DepEd is allowing schools located in areas under Alert Levels 1 and 2 to conduct limited F2F classes, subject to health protocols.
As of March 28, about 13,692 public and private schools have been participating in in-person classes, according to DepEd data.
More than 10 million children have so far been fully vaccinated against Covid-19, as of April 11.
Despite the eased Covid-19 protocols, Duterte again reminded the public to continue wearing face masks to ensure their protection against the dreaded disease.
He maintained that the use of face masks would help prevent the further transmission of Covid-19.
"Di lang nako gusto tangtangon ninyo ang maskara. Habang Presidente ko, gamita. Nakahatag gyud ni og proteksyon. Kay og wala nako na gipugos nga magmaskara gyud mo, ang takod kusog kaayo. Pero tungod naa na, dili basta-basta makasulod ang kagaw (But I don't want you to stop wearing your masks. While I'm President, continue to use your masks because this has given us protection. If I hadn't firmly imposed the use of face masks, the infection rate would have been higher. But because you are using masks, the virus can't easily penetrate the material)," he said.
From April 4 to 10, the country logged an additional 1,906 Covid-19 infections, with an estimated daily average case of 272.
Given the low number of reported Covid-19 cases, more than half of the country's total cities and municipalities, including Metro Manila, have been placed under the most lenient Alert Level 1 for the second half of April. (PNA)