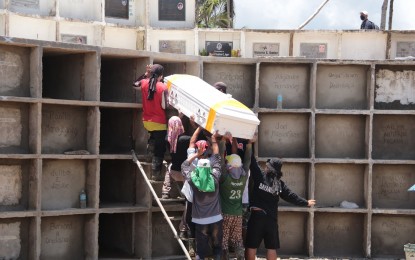 TACLOBAN CITY – The death toll from the landslides in Baybay City and Abuyog in Leyte has climbed to 170 while 128 remained missing as of Sunday as responders continue retrieval operations one week after the tragedy.
Local government units reported that 116 bodies were retrieved in landslide-hit villages of Baybay City and 54 in landslide-affected communities in Abuyog town.
The Baybay city disaster and risk reduction management office said that most of the corpses were found in Kantagnos village with 44, followed by Mailhi with 22, and Bunga with 17.
Bodies were also unearthed in the villages of San Agustin, Maypatag, Pangasugan, Zone 21, Candadam, Caridad, Igang, Palhi, Sto. Rosario, Gacat, Inopacan, and Can-ipa villages, all in Baybay City.
Bodies were dug from mudslides while others were washed out to the shoreline days after Tropical Depression Agaton dumped heavy rains in the province.
In Abuyog town, of the 54 landslide deaths, 51 bodies were retrieved in the coastal village of Pilar. Other victims were found in Bahay and Tib-o villages.
The landslide in Pilar on April 12 covered 80 percent of Pilar. Adding up to the number of deaths are those residents swept away by tsunami. The displacement of large volumes of seawater caused by the major landslide generated big waves.
Of the 128 reported missing persons after the landslide, 73 are in Baybay City and 55 in Abuyog town.
As of April 17, the official report of the Regional Disaster Risk Reduction Management Council (RDRRMC) showed only one confirmed dead and 155 other casualties for validation.
"Considered as confirmed are those bodies identified and with documentary requirements. The bodies are there and we are trying to handle it as respectfully as possible," RDRRMC chairman Lord Byron Torrecarion said.
"Chances of finding landslide survivors are very slim now. Our search and retrieval teams will continue to find more bodies as long as possible," Torrecarion added.
On April 15, President Rodrigo Duterte conducted an aerial inspection of Baybay City and visited some landslide victims.
He promised that the government would provide emergency food and shelter assistance to "Agaton" victims. (PNA)