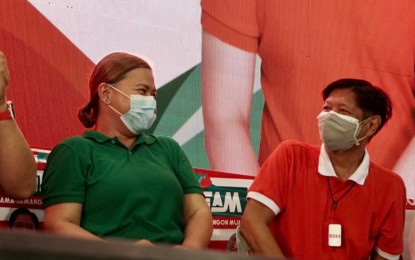 MANILA – Former senator Ferdinand "Bongbong" Marcos Jr. and Davao City Mayor Sara Duterte were the top picks for president and vice president, respectively, in the National Capital Region (NCR) based on the latest PUBliCUS Asia survey released Monday.
The PAHAYAG NCR tracker survey from April 8 to 13 showed Marcos was picked by 51.6 percent of the 1,625 respondents.
Some 24.3 percent went to Vice President Leni Robredo, followed by Manila Mayor Francisco "Isko Moreno" Domagoso who got 9.8 percent.
Trailing them were Senator Panfilo Lacson, 4.2 percent; Senator Manny Pacquiao, 1.8 percent; Leody de Guzman, 1 percent; Ernesto Abella, 0.9 percent; and Norberto Gonzales, 0.1 percent.
Of the total respondents, 5.7 percent said: "they have not yet decided who they will vote for on May 9".
For the vice presidency, Duterte garnered 51.3 percent, followed by Senator Francis Pangilinan at 15.4 percent, Senate President Vicente Sotto III with 11.6 percent, and Dr. Willie Ong with 11.4 percent.
The results also showed vote firmness was markedly high in the presidential and vice presidential races, with most supporters "definitely or likely not to change their respective votes".
Robredo obtained the highest proportion of firm votes with 87 percent of the 24.3 percent of respondents who chose her saying "their vote would definitely or likely not change".
Meanwhile, 86 percent of the 51.6 percent of respondents who chose Marcos said "their vote would definitely or likely not change", followed by 68 percent of firm voters of Domagoso.
Some 90 percent of Duterte's supporters said they would definitely or likely not change their votes while Pangilinan, Sotto, and Ong notched firm voter shares of 84 percent, 77 percent, and 69 percent, respectively.
"The NCR vote firmness numbers appear to validate the general trend illustrated by our national data, which suggest that a large majority of registered voters are already dead-set on whom to vote for President and Vice President on May 9," Aureli Sinsuat, executive director of PUBLiCUS, said in a statement.
The survey sample of 1,625 registered Filipino voters was drawn from the panel marketplace maintained by American firm PureSpectrum, with a total of 100 respondents each taken from 15 Metro Manila cities, except 76 samples from San Juan and 49 from Pateros.
The NCR-wide survey has a margin of error of plus/minus 3 percent. (PNA)