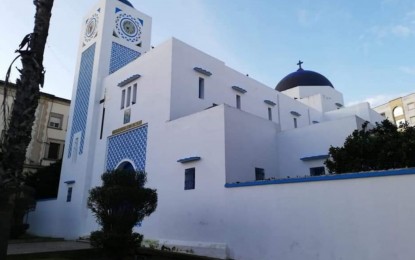 MANILA – In the predominantly Muslim country of Morocco, Filipino priest Melito Pinili is serving a small community of Christians in the port town of Larache.
Even with only about five Christians in the area, the Franciscan priest said he regularly celebrates the Holy Mass every Sunday.
He sometimes hosts Filipino Catholics who would personally visit the town to see him and attend the mass. Most of the Christians in the area are Africans.
"Ang assignment ko dito ay sa Nuestra Señora del Pilar Church kung saan lima lang ang Katolikong Kristiyano at the same time napakalaki ng simbahan kaya isa lang ang misa namin kada Linggo (My assignment really is at Nuestra Señora del Pilar Church where only five are Catholic Christians, which is why we only deliver one mass every week)," he said.
"Kaunti lang ang mga Kristiyano rito pero para sa akin hindi mahirap makisalamuha dito at nararamdaman ko na sila'y (Morocco) open (We have very few Christians here but it's not difficult here because I can feel that they're very open)," he told the Philippine News Agency.
Father Melito had been posted to several countries in the African region like Libya, Sudan, and Egypt but Morocco, for him, felt closer to his heart being a member of the Order of Friars Minor.
"Na-inspire ako dito sa Morocco dahil 800 years na ang presensya ng mga pransiskano rito, noong time pa ni St. Francis of Assisi na aming founder. Siya ang nagpadala ng unang pransiskano rito sa Morocco (I'm inspired here because the presence of Franciscans has been here for 800 years since the time of St. Francis of Assisi who is our founder. He was the one who sent the first Franciscan here)," he said.
"Nagtuloy-tuloy ang presensya ng mga pransiskano dito sa Morocco pero hindi para mag-convert kundi maipakita namin kung paano magkaroon ng pagkakaibigan at tinatawag nating dialogue (Since then they have been here in Morocco but not to convert but to show that we can maintain friendship and dialogue)," he added.
When he's not celebrating Mass, Father Melito can be seen joining the locals in promoting the culture of Larache, which is an important and historical harbor town where the ancient city of Lixus is also located.
He said the church, through a center, also offers language courses and would sometimes launch information drives on ways to protect the environment.
Father Melito said their mission is to promote brotherhood between the Muslims and the small Christian minority in Morocco.
In 2019, Pope Francis said if the Church would grow, it would be through "attraction" not proselytism or the attempt to persuade people to accept Christian beliefs.
"We respect their religion here and the pope told us noong nagvisit siya no conversion or proselytism (when the pope visited, he forbade proselytism). We always respect that we have to be friends," he said.
While Christians only make up less than 1 percent of Morocco's over 36 million population, the Church is active in the Kingdom.
During this year's observance of Lent, Mass was regularly celebrated throughout the week, according to Filipina Yolly Romero. On Good Friday, the Passion of the Christ was also re-enacted in an indoor drama at the Holy Spirit Cathedral in Tangier.
"Welcome dito ang mga Katoliko kasi marami ring Spanish dito, 'yong Cathedral halos katabi lang din ng mosque nila. Ever since na dumating ako dito mga 11 years ago nakakapagsimba ako (The Catholics are welcome because they also have a lot of Spanish here, even the Cathedral is located nearby their mosques. Ever since I came here I've been able to go to church regularly)," Romero said.
Romero, meanwhile, said this was the first time in two years that they were able to attend a mass for Lent Season.
From 2020 and 2021, churches in Morocco were closed due to lockdowns to curb the spread of coronavirus disease 2019. (PNA)