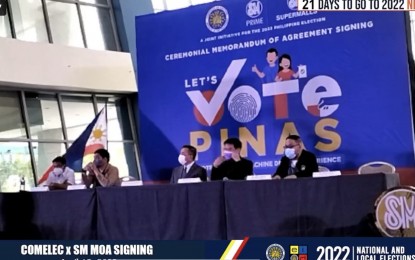 MANILA – With only several weeks left before the May 9 polls, the Commission on Elections (Comelec) and the SM Supermalls have signed a memorandum of agreement (MOA) for the public, particularly registered voters, to experience how to use the vote counting machines (VCMs).
During the agreement signing at the SM Mall of Asia in Pasay City on Monday, Comelec chairman Saidamen Pangarungan urged voters to visit any SM mall in the country and experience firsthand how to use and operate VCM.
"We invite our voters to test them and familiarize themselves with these machines. So that when election day comes, we are confident that our votes will be recorded and counted securely," Pangarungan said in his speech.
"Through this vote counting machine demo and experience, we hope to familiarize each voter with the tool that we will use to record and transmit their votes. And what better way to educate as many voters as possible than partnering with SM Supermalls, the most ubiquitous mall in the country," he added.
He said the project also aims to dispel apprehension and fear of some voters regarding the use and security of the vote counting machines.
"These are state of the art equipment that have been used by other countries. They are engineered to be secure and tamper proof. The programming and codes for the machines are also safe and secure," he added.
For his part, SM Supermalls president Steven Tan said they are very happy and proud to be Comelec's exclusive partner to the Let's Vote Pinas initiative.
"A very noble undertaking to equip our fellow countrymen with the confidence to exercise their right to vote. We have once again offered our most to this partnership as part of our lasting commitment to both the national government and Comelec about our support to nation building and services closer to the public," he added.
Tan also lauded the Comelec for its efforts to empower and prepare everyone "that innovations you have introduced and your partnership with the private sectors like us in SM are very forward thinking, practical and mutual trust building."
Comelec and SM have an existing partnership that started in 2014.
All the 78 malls in the country will be participating in the event that started on Monday at the SM Mall of Asia.
The other schedules are as follows: April 20-24, National Capital Region; Region 3 (Pampanga, and Bulacan); Region 4-A (Calabarzon); and April 22-24, other parts of Luzon, Visayas and Mindanao.
Comelec spokesperson James Jimenez said they will start accommodating participants as soon as the venues or malls are opened.
"We are mirroring mall hours. Available to everyone who wants to participate. It is not only limited to voters," he said in a press conference.
There are 800 ballots per day, per site to be allocated. It will involve 78 VCM units for demonstration purposes
"After the demo, the VCMs will be retrieved for election as contingency machines," he said.
Jimenez also clarified that the ballots to be used in the demonstration are with fictitious names.
"The ballots are dummy ballots with fictitious names. We're not using true candidates when we are conducting demo only," he said.
Meanwhile, Commissioner Marlon Cascquejo noted the importance of the participation of the public in the activity.
"The involvement of the public voting experience will assist the Commission in guaranteeing the public on how secure the votes are and that the sanctity of ballots remains paramount amidst misinformation their votes can be maneuvered or even tracked," he said.
"This would allow the voters to see for themselves that each ballot has several security markings that will eliminate any doubt that they may have from the start, particularly among the first time voters. But most importantly, giving the public this voting experience will lessen errors that the voters usually commit on election day in shading the oval, handling the ballot or even how the ballot is being fed into the machine," he added. (PNA)