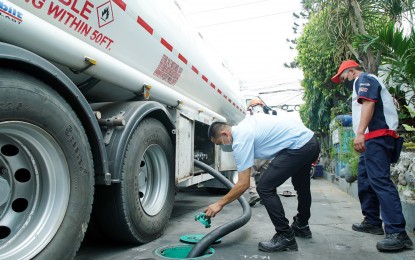 MANILA – The Bureau of Customs (BOC) on Monday said it has so far collected a cumulative PHP374.13 in import duties and other taxes from compliant oil companies under the fuel marking program.
In a statement, the Bureau said the total marked gasoline, diesel, and kerosene from September 2019 to March 2022 reached 39.316 billion liters.
It added that diesel comprises 65.51 percent of the total tax-paid volume followed by gasoline with 38.97 percent and kerosene with 0.52 percent.
As for location, Luzon recorded the highest number of markings at 73.66 percent, followed by Mindanao with 20.9 percent and Visayas with 5.44 percent.
The BOC said it is now marking 28 oil firms since the program started September 2019.
It also said it seized a total of 93,043.80 liters of diesel, 18,839.00 liters of kerosene, and two units of tank trucks carrying unmarked fuel with an estimated value of PHP13,357,405.
The confiscation was done in coordination with the Bureau of Internal Revenue (BIR).
The BOC also recommended the filing of criminal cases against the 12 retail stations and two private firms that have unmarked fuels.
For the first quarter of 2022, the BOC has marked 4.724 billion liters of petroleum products, or equivalent to PHP60.15 billion in duties and taxes.
The fuel marking program aims to raise revenues while curbing fuel smuggling and leveling the playing field in the Philippine oil industries. (PNA)